"Help Me To Do It Myself"
Montessori in the Home
As Guide's, we are often asked "how can we implement Montessori at home in order to support our child?" One of the best ways is through practical life activities at home. Practical life activities at home can include, but not limited to, food preparation, care of self, and care of the environment.
Care of the Environment:
At first glance, these seem to be mundane chores that adults do for a utilitarian purpose, to the child, it is a chance to learn, practice order, concentration, independence, and mastery of a task. Through repetition of these activities at home, the child grows in self-confidence while contributing to the family and taking a more active role in the care of his/her environment. With the proper tools (child-size and easily accessible), the child can help sweep, mop, help with the laundry, folding, cleaning the table, watering the plants, and placing dishes in the dishwasher after meal time.
Care of Self:
Children thrive in being able to dress themselves, tie their shoes, button their shirts or coats, comb their hair or brush their teeth.
Food Preparation:
Children love helping their parents prepare food. Peeling, cutting, chopping, washing vegetables; stirring, mixing, and following a recipe; and under close supervision of an adult, cooking and baking.
The few important things to remember is to allow your child the opportunity to fail; allow plenty of time for your child to work at his/her own pace; if your child shows signs of frustration, gently ask if you can help without correcting the error; stand back and observe your child and you will notice the beauty of the making of an adult.
There are many resources available to the parent that explains Dr. Montessori's philosophy. Here are a few suggestions: Maria Montessori Speaks to Parents (available through AMIUSA bookstore https://amiusa.org/products-page/books/); The Child in the Family (AMIUSA bookstore). Both these books are available in Spanish. Books to read with your children: Tidy Up! (Montessori Services http://www.montessoriservices.com/books-resources/montessori-at-home).
Take a Peek Inside our Children's House Classrooms:
Cactus Wren
Dear Families,
As September starts to wind down, we look forward to another month of great work. All the children have been hard at work practicing their new lessons, helping each other, and settling into a routine. We planted mint, parsley, thyme, and tomatoes in our garden. We have also added a quaint little sitting area under the tree where the children can go to reflect and enjoy the peaceful environment.
Our room parents are fine tuning our Fall Social, Auction Art Project and Basket. You will soon be contacted through SchoolCues regarding donations and ways you can help out. Or feel free to contact them directly. As you know, all proceeds from the Auction go to school scholarships for children under 5 years old. It is a great opportunity to raise money for a good cause and have some fun!!!!
Peacefully,
Ms. Johna and Miss Eugenia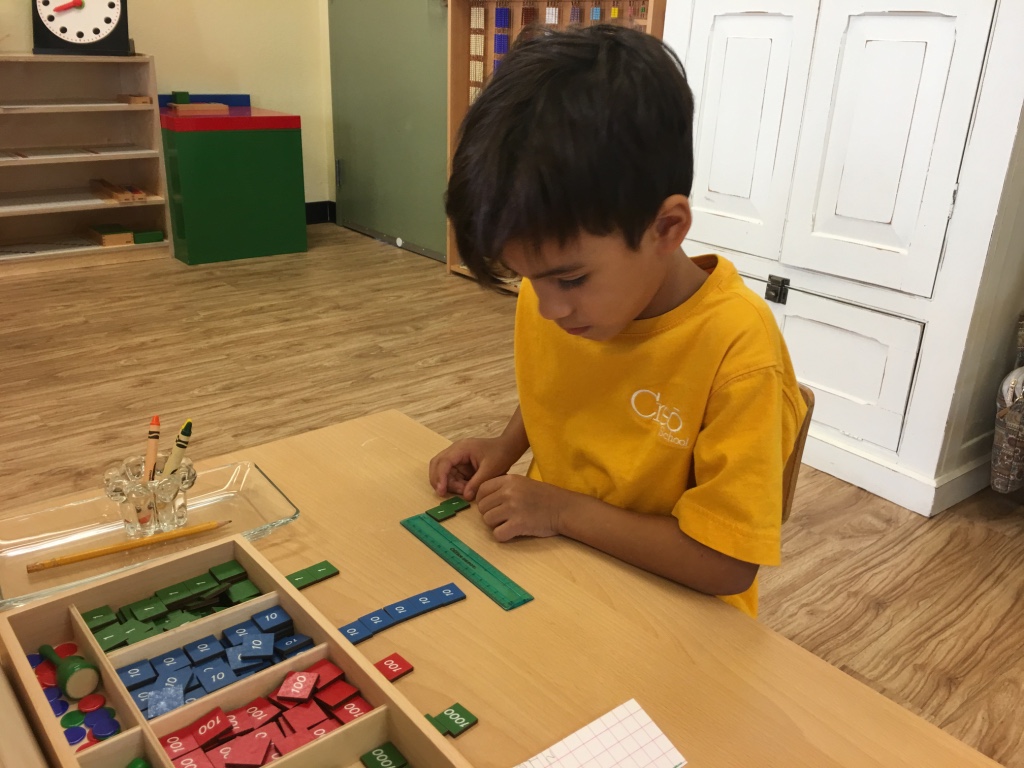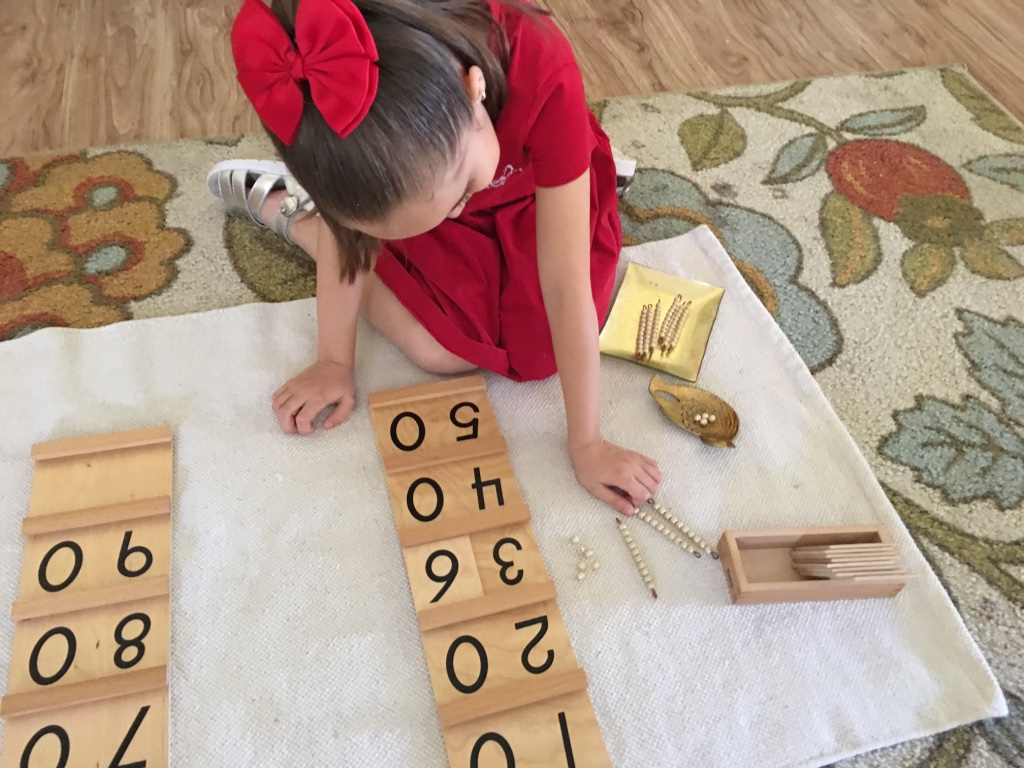 Jackrabbit
Happy fall! It is hard to believe we are entering our eighth week of school. The children are doing very well, and have smoothly adapted to the daily routine. It's truly amazing to see what they are capable of doing. Observations and conferences will be coming soon and we look forward to have you come and enjoy a little time in the classroom.
Our first social will be held on Thursday, October 5th. Please plan on attending since this is a good time to come together as a community and spend some time together. You will be receiving e-mails from our room parents with important information about this event.
During this month we have welcomed two new friends into our classroom. We also welcomed a new finch bird, Lucy. Now Charlie won't be lonely anymore. We love to hear them sing throughout the day while we work.
We have planted our beautiful garden using seeds like peppers, watermelon, strawberries, cucumbers, and lettuce. The children are carefully tending to it by watering it and keeping an eye for any signs of growth. We are very excited for fall to come so that we can spend more time in our outdoor environment.
Thank you for your continued support and trust.
Warmly,
Miss Marcela and Miss Dinora.
Bobcat
Hi Bobcat Families~
Here we are, well into our school year and so excited for fall....especially those fall temperatures!
This past month we have been very busy in the Bobcat classroom making cream drop biscuits and planting our gardens. We have planted beets, squash, pumpkin, zucchini and some marigolds. We can't wait to se what our harvest will bring so we can use our bounty for yummy treats in the classroom.
Our first social will be held on October 4th and we are so excited to see all of our families in a relaxed, social setting. It will be a fiesta themed social, so be sure to dress up if you like and be ready for lots of delicious Mexican food. This will be an amazing opportunity to connect with other families in the classroom, thus further building our community. See you there!
Peacefully~
Ms. Carmen and Ms. Liz
Gray Fox
Dear Gray Fox Families,
Wow! We can't believe Fall is upon us. Along with the cooler weather comes fresh crisp ideas and inspiration from our natural world. The children have enjoyed the opportunity to plant and witness the wonder of growth in our gardens. We have also been discussing the life cycle of the butterfly. A fun opportunity for your child to connect what we're learning in the classroom to the outside world: Your family can visit our local Butterfly Wonderland to learn more about the miraculous journeys of these fascinating critters and become up close and personal with many species of butterflies.
In the afternoons, the children have been enjoying opportunities to practice mindfulness, meditation and yoga. We have been focusing on specific terms such as: happiness, gratefulness, loving, dreams, hope, feelings, etc. and sharing our thoughts with one another. This has been a beautiful way for the children to speak in complete sentences from the heart. For example, one day we were focusing on "caring." The children all closed their eyes as I narrated a expedition toward caring with peace as the main goal. I asked the children to imagine what they care about and what the qualities are. They began raising their tiny hands to share what they pictured in their minds. It is always beyond incredible to hear the thoughtfulness of the children pour out like poetry. Enjoy some of their responses:
"I care about my cat."
"I care about the Earth, our home."
"I care about the trees."
"I care about the animals."
"I care about water."
"I care about my family."
A big thank you to all who attended our Fall Fiesta! It was a blast! We are looking forward to classroom observations and conferences beginning in October. We would also like to extend a warm welcome to our new student, Daniel who joined our class this month.
With appreciation,
Ms. Lauren and Ms. Yadira