Harmonious Combinations
Montessorians tend to radiate a sort of belief and respect for education that cannot be overlooked. We stand by our theory because we witness it unfold and manifest in the child in new and exciting ways each day. It's simply what keeps our Montessori juices flowing. Dr. Montessori stressed the importance of becoming a 'Guide" to the child. We are not simply here to teach the children things. We are here to present them with the ideas and capabilities of decoding, problem solving and confidently tackling new obstacles; all while encouraging them to gently help their neighbor. Montessori pedagogy is scientifically based and proven to adhere to the child's evolutionary development regardless of where they are in the world.
Our Children's House staff attempt to tackle some of Dr. Maria Montessori's theory and practically apply throughout this post:
A Tribute to Dr. Maria Montessori's Life
Maria Montessori was born on August 31st, 1870 in Italy. She began to study engineering and ultimately found her passion in medicine. She became the top student in Faculty of Medicine at the university of Rome. She continued her education in experimental Psychology and Anthropology. Afterwards, Montessori did her research on children with mental and physical disabilities which became the fundamental experiment to her future educational method. In 1906, Montessori was offered an opportunity to be a director of a group of children from low-income families in Rome. She opened the first Children's house, 'Casa dei Bambini' in January 1907. Shortly after, the second Children's House opened in April of the same year. Her method became immediately successful and received attention from across the globe. She presented the first training course to a little over 100 students in 1909 when her first book, Montessori Method, was published into over 20 languages.
In 1912, Dr. Maria Montessori visited the United States and formed The Association of Montessori. As the Montessori method was spreading in Europe and USA, Maria traveled between the countries, opened training centers and lectured her method. In 1926 the Association Montessori International (AMI) was founded. In 1946, Montessori developed an incredible curriculum for elementary and adolescent students and called it Cosmic Education. After Dr. Maria Montessori's death, her son Mario continued the expansion of the Montessori movement. We remember Dr. Montessori as an advocate for all children.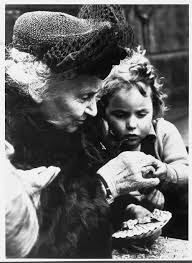 Sensitive Periods
Through observation, Dr. Montessori discovered a window in the child's life where he experiences interest in certain areas of his environment. Children appear to have sensitive periods towards Order, Movement, Language and Refinement of sensorial exploration. Sensitive period can be a great tool to identify a child's area of interest and their readiness to get introduced to an activity.
The sensitive periods, or "windows of opportunity" are intense interests for repeating specific activities over and over again, until, out of repetition, a new skill develops and is mastered within the child. Montessori believes that these sensitive periods show themselves by a pattern of behavior. Sensitivity for order appears in the first year and continues through to the second year until the child is four-four and half years of age. During this time, the child is determined to sort out and categorize his experiences. The sensitive period for language is the longest as it begins at birth and continues through the end of the first plane of development (around age 6). The child has all organs of speech; he is capable to express all sounds of languages he has been exposed to. By the age of six, with almost no direct teaching, the child will have acquired a large vocabulary and continues to acquire more complex sentence structures.
Another Sensitive period is for Movement. At birth this movement is unconscious until the child finds himself perfecting these movements. For instance, there are many hand and leg movements in infancy which will gradually transform to purposeful movements during this sensitive period. The Sensitive Period for movement usually peaks around age four and half. Another sensitive period is for Refinement of the Senses. The brain of a child can only develop itself with sensorial experience. Child's heightened movement and strong sensorial ability are to help him understand his environment which happens all through his five senses. In the Children's House, each material and exercise attends to refinement and development of intelligence.
Concentration
In our last blog post we outlined Practical Life in the Children's House from the different areas embedded in it to the purposes and progressions. We even discussed some ways you can incorporate practical life into your child's home-life. One recurring buzz word you always hear when Practical Life is mentioned is 'concentration.' Concentration is the foundation for cognition and brain activity. Dr. Maria Montessori observed that the child who concentrates is immensely happy. In the Children's House we seek joyful engagement and this is brought about by uninterrupted concentration that doesn't quit.
The ability to initiate, plan and concentrate on activity is significant whether you're four, fourteen or forty. It is the foundation for a lifetime of learning and success. The child's development of concentration begins at birth and is brought about by the hands. The hands are the instruments of intelligence. The child does not just view the world, she reaches out and touches it – exploring with her senses. Through manipulation, refinement and sensorial experiences the hand helps the brain develop concentration. Concentration leads to purposeful activity and repetition leads to deep concentration. The Montessori Guides are constantly looking for concentration, not mistakes.
Independence
The Montessori Children's House is geared toward empowering every child through opportunites to develop their upmost potentials as human beings in society. The development of independence is just as delicate as the development of concentration for the child of three to six and is precisely what they seek. As an adult in the child's life, we must only offer enough help for the child to become successful with the task at hand. The multi-age environment that is the Children's House, allows children to learn to communicate with others to solve their own questions. It is only the child who can construct herself through access to her world. Through this approach we are able to observe extremely high levels of independence in the classroom which results in confident, effective and enthusiastic learners.
Freedom Within Limits and Discipline
The concept of freedom within limits and discipline was always considered by Dr. Maria Montessori to be closely related. One is impossible without the other. Freedom is the opportunity to choose a work that will fulfill a developmental need within the child. Freedom allows the child to follow his/her own internal needs as well as development of self-construction.
Freedom begins with movement in the Practical Life area of the classroom. Once the Guide gives the child a lesson on how to use the work, the Guide will step back an give ownership of the exercise to the child. The children are then free to work with the exercise whenever they like, for as long as they would like. Practical Life exercises not only allow the child to acquire the ability to care for himself and the environment; but also to develop control over his movements enabling him to manage his body with purpose and without disrupting others. The child repeats the exercise for precision, perfection, concentration, more control of self and more discipline.
The classroom environment offers freedom that fosters a sense of personal responsibility. When a person has made a choice to act, he becomes aware that his actions are his own. When boundaries or limits are established in the environment, the child can make a choice of the work that interests him and then choose the next work of interest.
In the Montessori environment, we think of discipline as one who has self control. The child chooses what is best for his or her own development all while being able to take into consideration the impact they are having on the children and environment around them. The child embraces an activity that he is able to freely choose and is able to work at this activity with full concentration. While a child is in the mist of purposeful movement and concentration, he is refining control over his physical and mental bodies. This act develops personal discipline.
Discipline is an internal state that the child arrives to on his own; it is created by the child. In this way, discipline is achieved through freedom of movement. When the child is offered the opportunity to move and act freely to benefit his inner needs, to make his own choices, and carry out the work of his choice, freedom is manifested and an inner discipline emerges.
A Peek Inside Our Children's House Classrooms
Cactus Wren
It is amazing to see all the children working on concentration, Grace and Courtesy, order, self-discipline and self-regulation. They are excited to have new lessons, to help each other, learn to bake, and to bring items to show and share. We enjoy observing the dynamics of the classroom, the socialization, compassion and gentleness the child exhibit between each other.
If you have not already noticed, our Outdoor Environment has been transformed to offer more spaces for us to work the soil and grow plants. We are all anxiously awaiting the cooler weather so that we can fully utilize the Outdoor Environment.
Peacefully,
Ms. Johna and Ms. Eugenia
Gray Fox
It has been such a delight to observe the children becoming more comfortable in the environment and with each other. The individual personalities continue to blossom like the exquisite buds of our apple tree. We have been enjoying the change in temperature, although slight, we'll sure take what we can get! We have been discussing the change of seasons as well as signing songs and reading poems about Autumn. Our daily nature walks have inspired some interesting works of art in the environment, The children have also had opportunities to identify various types of birds and butterflies in our garden; this is such a gift. In addition, it's been phenomenal to hear the Spanish words floating around the classroom.
Thank you for your support and trust.
With appreciation,
Ms. Lauren and Ms. Yadira
Bobcat
It has been an exciting month at Bobcats. We have been welcoming new students and we all feel the new energy around us. We are very exited to see more of the children's personalities and to see them settling down to their comfort level. We play music together daily and the children's favorite song has been the "Peace in my fingers". With the weather cooling down, the children are impatiently waiting to work in our outdoor environment. I would like to thank our new parents for their patience, cooperation and faith in us.
Warmly
Ms. Mahsa and Ms. Dinora