Life is Practical in the Children's House
The Exercises of Practical Life
The Practical Life Exercises are the ordinary everyday activities which people do in order to maintain themselves and the environment. In the Children's House, we focus on the house, garden and simple social acts. The purposes of the Practical Life Exercises coincide with the child's specific social needs adhering to their time and place in the world. These are the most important activities in a Children's House because they are the foundation. Practical Life activities are imperative the whole three years the child is in the Children's House. The groups of Practical Life Exercises include: Preliminary Exercises, Care of the Environment, Care of the Person, Social Relations and Movement/Music. Along with the core areas we will also be indentifying aspects of Practical Life that can be shared with the child's home environment.
Preliminary Exercises
Preliminary exercises are done to acquire a skill needed for a further activity.
Some Preliminary exercises isolate a movement in relation to an object or an action used in the environment and some isolate a particular but significant movement from a more complicated sequence of work.
These are all basic movements of all societies such as pouring, sweeping, carrying a rug, tray or a book, sit on a chair etc. The type of materials used in preliminary exercises may vary in different cultures but they aim towards the same purpose. For instance, in Asia chopsticks are used as eating utensils, whereas in western countries cutlery is a common eating utensils; in India breads or hands are used in place of utensils. Although Practical life preliminary exercises are culturally adapted and children learn how to obtain the ability to live life based on their geographical location, the concept and goal of these activities are the same.
Montessori at Home
Most of preliminary exercises are given to the child during their first weeks at children's house but they should not be limited to school only, as they can be applied at home as well. The child uses these separate skills and combinations of these separate skills constantly to accomplish their work and to successfully negotiate the challenges of group life.
It is beneficial if these activities are also applied at home. Having a low table for snack preparation or a child size cutlery and utensils can give the child the chance to experience food preparation just like the grown ups at home. Providing real and breakable materials let the child the learn the consequences of their action. Allowing the child to pour from one jug to another or to a cup, using a spoon to transfer bean from one bowl to another, wringing a cloth or squeezing a sponge in a purposeful way will train them for complicated activities.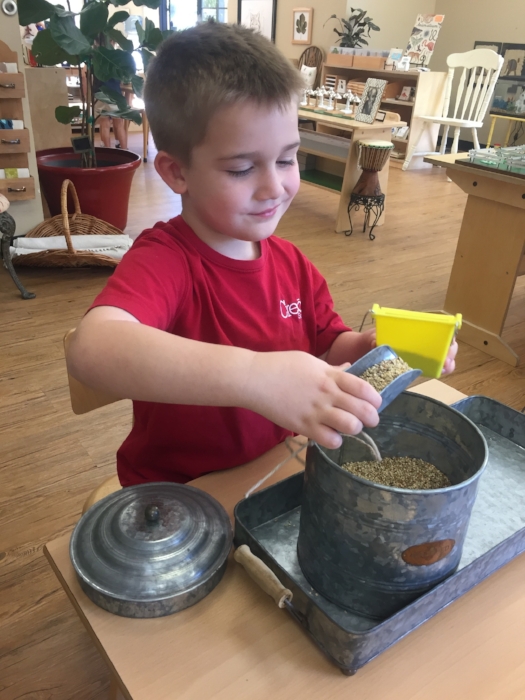 Care of the Environment
This group of exercises is organized around activities to care for the child's environment and everything in it. Young children want to do what they see family members or other people doing. They are always willing to help. For the child, it is not just for the purpose of getting the table or dishes cleaned or the floor swept but rather it meets some inner need that is experienced by the child. So they will engage in the activity over and over again. The younger the child, the more he or she will be motivated by the developmental purpose of the activity. Some of these exercises support the child's development of movement both of equilibrium and the coordination of the hand. Others support the development of a sense of order, sequencing and concentration. Once the skill has been internalized and the need has been met, the older child will engage in the same work for a utilitarian purpose. The child develops a sense of ownership and responsibility for the care of the environment.
Care of the Person
These exercises are organized around care of one's clothing, care of personal items, grooming and hygiene. They are usually individual work on the shelf and available for the child to choose. These exercises allow the child to develop the skills to care for his or her own personal needs. They are a direct support to functional independence. Examples of care of self exercises are food preparation, dressing frames, washing hands, and polishing shoes. The younger child is attracted to the developmental purposes of these exercises. They give the young child the opportunity to refine and perfect coordination, visual motor coordination, development of order, and proceed through inner construction. As the child masters the process, they are providing a utilitarian purpose for this activity and they find great joy in their independence.
"We must help the child to act for himself, will for himself, think for himself; this is the art of those who aspire to serve the spirit." -Dr. Montessori
Social Relations and Grace and Courtesy
One of the most marvelous aspects of Montessori education is the focus of educating the 'whole' individual. We believe that nurturing the social/emotional spirit is just as important as academics. A happy, self-assured and secure child can be a successful learner. In order for the young child to thrive in an environment that is based upon freedom within limits they must understand social grace and courtesies. Children are fascinated in social relations because they are becoming conscious of the people and movement around them.
We integrate this into the life of the child by setting standards to understand positive communication, verbiage to express needs and safety. These 'Grace and Courtesy' lessons are presented through interactive role-plays. We define grace as, economy of energy and efficiency in movement. We define courtesy as, economy of energy and efficiency of movement towards others. Think of this example: carrying a chair through and empty room can be graceful. Carrying a chair through a crowded room would be courtesy. Generally speaking, when we are trying to be courteous, it adds a little bit of extra stimuli for us to be graceful.
Anything that will help the child become master of her own actions in daily life is appropriate for a Lesson in Grace and Courtesy. They include but are certainly not limited to: how to push in your chair before returning a material to the shelf, how to beg pardon, how to knock on the door before entering the restroom, how to ask for help, how to carry materials, how to carry tables and chairs, how to respond to someone who calls you a name, how to respond to someone who interrupts your work, how to ask a friend to tie your apron, etc. Basically, any socialization aspect including movement, adults and children alike model verbal or non-verbal communication. As a result, we observe respectful interactions, controlled movement and social harmony.
Music and Movement
A characteristic of the prepared environment in which observers notice immediately is the endless movement in the classroom. Neuroscientists are constantly explaining the importance of movement for children. The Montessori child moves with precision all day long, exerting his powers for order and refinement. Montessori understood that the mind has to call on the body as an aid to understanding. All our materials and exercises are connected with movement – the whole classroom is the child's gymnasium especially the Practical Life area. The child is continuously offered opportunities to strengthen and develop confidence in both fine and gross motor movements. We practice rhythm through dance and learning to walk, run, hop or skip depending on the orchestra of classical music. Balance is developed through 'Walking on the Line' exercises, yoga and balance beams.
In conjunction to movement, the children experience music as an individual or group presentation. They learn to compose their own music, read music and develop an ear for perfect pitch with the Montessori Bells. The children have opportunities to identify different styles of music, composers and names of songs. We regularly sing with the children and teach them songs from around the world in different languages. The children experiment with various instruments throughout the year and play rhythm games. Music is an essential part of life and a form of art in which we honor.
"Music expresses that which cannot be said and on which it is impossible to be silent." -Victor Hugo
A Peek Inside the Children's House Classrooms
Cactus Wren
It has been an exciting few weeks back as we welcome back our returning students and greet all the new students. Last week the children were busy with learning everyone's names, Grace and Courtesy lessons, how to have snack, how to wash their dishes, where to put their lunchboxes, learning the playground and lunch time expectations. I am sure they were exhausted!!! As things become more routine and cooler, we will be able to take nature walks around the campus and utilize our Outdoor Environment to it's fullest. Thank you all for your support and attending our first Parent Night meeting. We look forward to seeing you all at the next meeting.
Peacefully,
Ms. Johna and Ms. Eugenia
Gray Fox
We couldn't have imagined a more ideal group to begin this exciting year with. The unique personalities and contributions that each child brings forth are inspiring. The child's understanding of change/transition can be overwhelming at first but they soon settle in and recognize the Children's House as their home away from home. Overall, we are pleased with the quick transitions and fully appreciate your cooperation, support and trust.
It has been joyous to observe the children connect with the materials and display concentration. The children are establishing or reestablishing relationships with the adults and children in the environment. During each transition period, we have been taking time to present Grace and Courtesy lessons and explain classroom routines and procedures. Thank you to all of the parents who attended our classroom meetings. These meetings are extremely important as we dissect the Montessori method, materials and daily life of the child within our environment. We are looking forward to a phenomenal year of growth.
Warmly,
Ms. Lauren and Ms. Yadira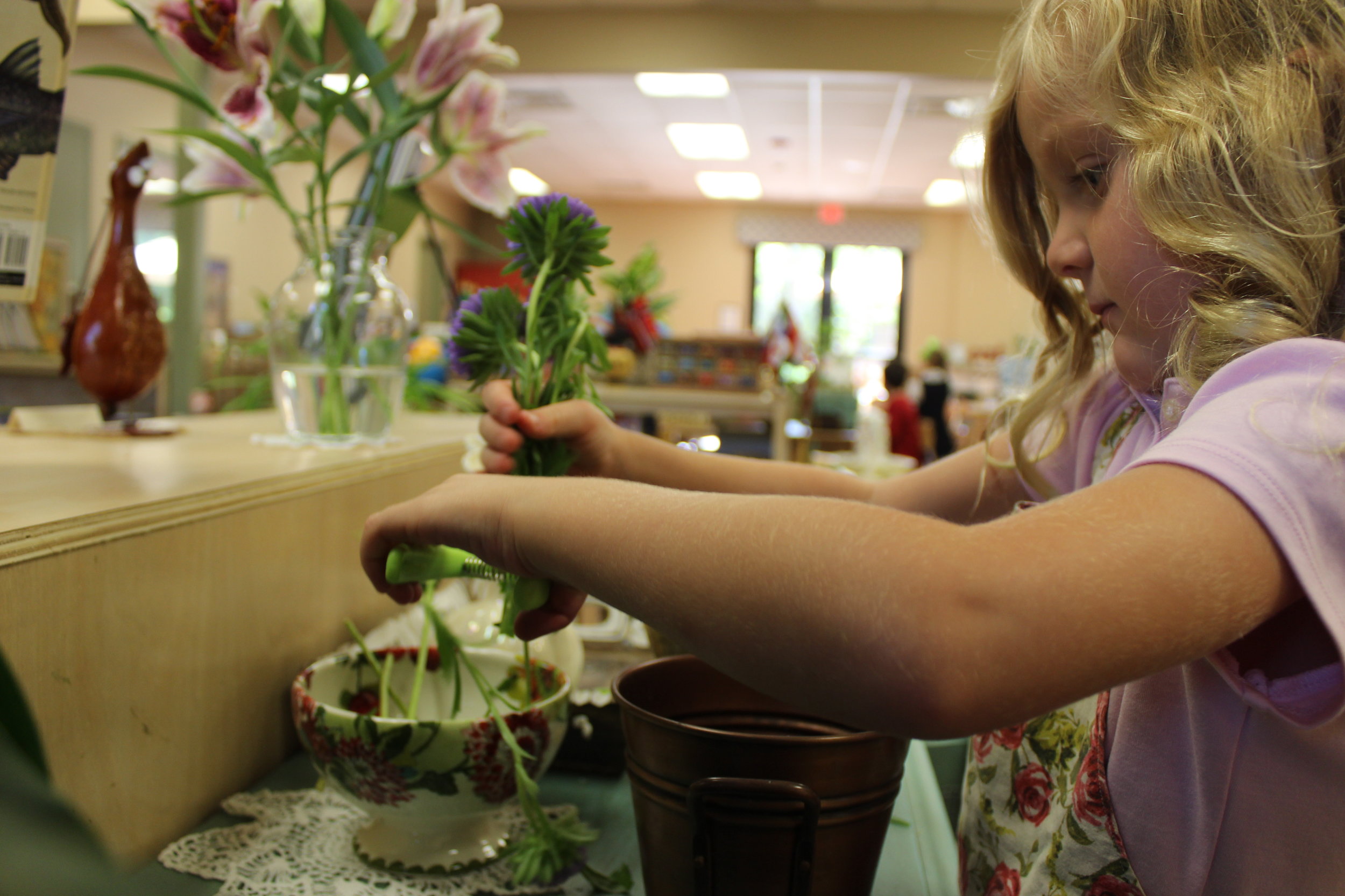 Bobcat
What a blissful time of the year. The returning children are back to their routine and the new students show great excitement to be in such positive, calm and happy environment. We are still welcoming more new students in the next few weeks and we hope this will make the transition smoother for all the children.
As the retuning students are thirsty to get their hands on the materials and get new lessons, the new students are amazed with freedom of choice, different areas of the classroom, new lessons they receive and how to observe a friend during work time. For many of our new students, the children's house is a completely new environment and surely they have a lot to take in and adjust to.
I would like to thank the parents for attending our first class meetings and we hope to see everyone in our future parent educational community meetings.
Respectfully,
Ms. Mahsa and Ms. Dinora