Role of the Adult in a World of Digital Natives
The role of the adult as viewed by Montessori Educators is to aid the child to life. Adults are the guide to the child's discovery of the world and in the modern world of today of information and technology it is a great endeavor to keep up with the swift developments and the amount of information available. Today children are born into a digital world that requires the careful introduction by adults to aid the child in its navigation be it mobile devices, laptops, tablets, electronic readers, etc... Adults need to both instruct in the usage of the devices as well as the interpretation of what it is "to surf on the web".
We may not know everything about technology or apps that are available today, and it is not necessary to do be an expert, what we need to understand is that the digital virtual world is an extension of our physical world with its nuances and specifics and it is a way that people communicate with each other easier and faster. As adults, we now guide and model for children how to communicate in this virtual space with considerations on how best to interact with another person even though they are not physically present and how to have access and utilize the accessibility of information in an efficient way to get their questions of wonder answered. Children need to learn as they do in the classroom, in parties, and sports participation how to interact with their peers, adults, coaches, subject matter experts in the field they are studying in a way that they can successfully achieve their information goals.
Parental guidance in the virtual world is required to keep it a safe experience for the child.
Why is it necessary to model and guide children through their virtual lives? Is an excellent question. Because their actions affect both in the real and virtual world: 1) Relationships, 2) Reputation, and 3) Time management. All the things that we face in our lives every day and we can guide and model for them in theirs.
Our goal as adults to help them learn how to make decisions and find solutions on their own.
There are three ways that parents are handling the children's use of technology: 1) Ignoring, 2) Limiting, and 3) Mentoring. A research shows that the third way is the way that supports a child's digital development. The other two ways leaves children without the necessary skills for the digital interactions with also impact their success in the real world.
How to mentor a digital native? Teach them the social wisdom that you have.
Look into your own use of technology. Find a mentor for yourself if you do not feel you have sufficient virtual literacy. Discuss with your children what are websites and why you will create privacy settings to protect them from viewing or accessing information that is not useful to them. Practice with child how to navigate and select from search engines for information (parental guidance is always recommended for web research). Guide children how they can and cannot use web content for their projects and research studies. A great conversation is about content as intellectual property.
Express an active interest and learn together with your children in everything they do including their digital lives. Playing video games with them is a way to really see the messages of the game and you can best decide if you really want your child exposed to that game as you would on the playground. Learn together how to create digital robots, games or drawings. Share what you are up to online (for example: Facebook posts, Twitter posts, posting pictures on Instagram, posting information on LinkedIn, etc.) You can ask for their input and go over with them the writing process, your considerations of how to create a short message that says it all. Sharing conversations while together working on a project online will help you to understand how your child thinks and interacts in and with the digital world and will open many great opportunities for mentorship and fun. These guided time with your child in the end will give the adult the confidence to provide the child more freedom in this world because they have been guided through the ways they need can be responsible and conscious citizen of the virtual world.
An added gift to starting this virtual world together is that the child already know you know everything they are doing online. By building a relationship with your child and mentoring them on how to move in this world what opens up is the comfort and availability that the adult becomes to continue this dialogue and mentor the child. It is best to be a mentor in the life of your child than to leave them to figure out on their own or by means of another child who has figured it out on his own this virtual world with direct impact on who you child is developing to becoming. It is important to have the lines of communications open if there were expected outcome that did not materialize and they need to be walked through and resolve a miscommunication or conflict online with a friend as we would in person. In any type of environment children sometimes do not have positive results or have unexpected outcomes. It is an important factor for the child to know that they can approach you to talk out and find positive ways to resolve problems online.
Creating a time and space to share with your child is always the best recommendation. Today the Digital World is another way you can do this with your child and find ways to have fun, learn about each other and the world together. Every word you share as a mentor to your child will be gems to them as they grow and face their world with you having given them the Aid to Life that is our greatest gift.
Used Literature:
Allison Awes, On Building Character: The Elementary Child's Moral Development in the Digital Age. AMI/USA, 2018.
Devorah Heitner, Phd. Screenwise: Helping Kids Thrive (and Survive) in Their Digital World. Bibliomotion, Inc., 2016.
Peek inside the classrooms:
Black Bears
Our class environment is now awakened to the work that follows the Great Stories! The inspiring ideas of the children as they get a big picture of the universe and their special place in it as human beings has exploded into investigations in all areas of studies. The timelines and charts are replicated and studied closely to see connections, how the natural laws work and concrete ways to explore concepts such as density, elasticity, gravity, electricity and so much more. Experiments together with hypothesis and conclusions are the work of the science center. Children love the work of big numbers and counting in the thousands and millions. Interest in distances in time and space has made it necessary and meaningful.
The first Elementary level collaboration was a moving Peace Ceremony. The children experienced a beautiful circle of peace with the whole school community. A beautiful song, gently lit candles and the circle of friends in community of the entire school breath taking.
Coming up this month, Spanish integration in our daily lives, the study of habitats and ecosystems. Group meetings holding peaceful conversation of conservation and social service. Songs and dance from around the world. All lessons building on the vision of our global responsibility of citizenship. The Black Bear cubs are excited and enthusiastic about learning more.
Coyotes
Dear Coyote Families,
This has been a wonderful month as we wrap our Great Lessons. These presentations have allowed children to expand their interests and curiosities; starting from how the Universe was created, How Life came about on earth, Arrival of Human Beings, Importance of our Languages and our unique Mathematical minds.
Our classroom is filled with various work as they're digging deep into researching and trying to find answers to their important questions. Building community has become more purposeful as they're learning its through working together our ancestors survived and built great civilizations. Math and Language also have become exciting work for them because through our lessons the children our coming to realize that these our special gifts, only human beings have.
Cordially Yours,
Mr. Fernando & Ms. Karina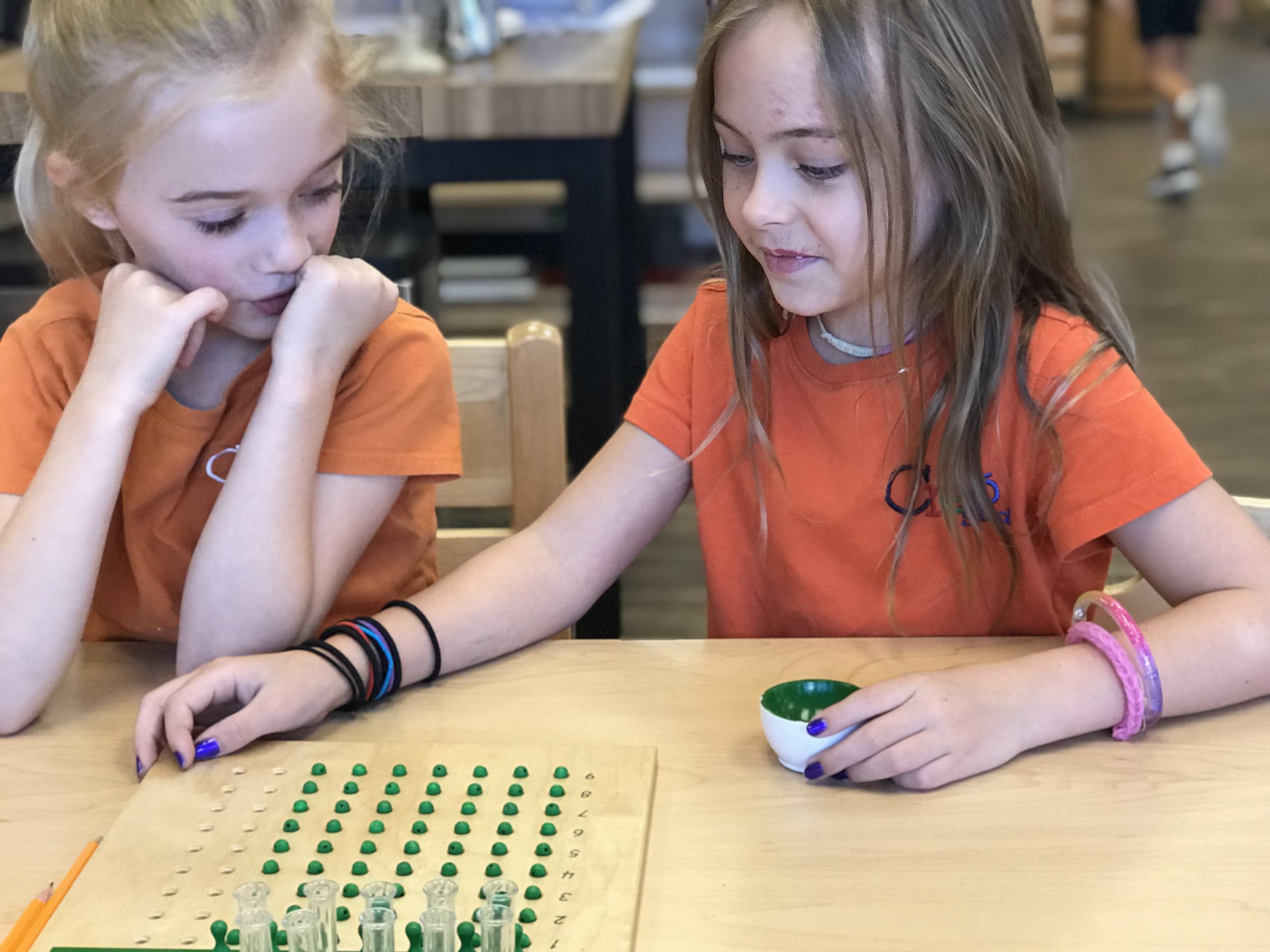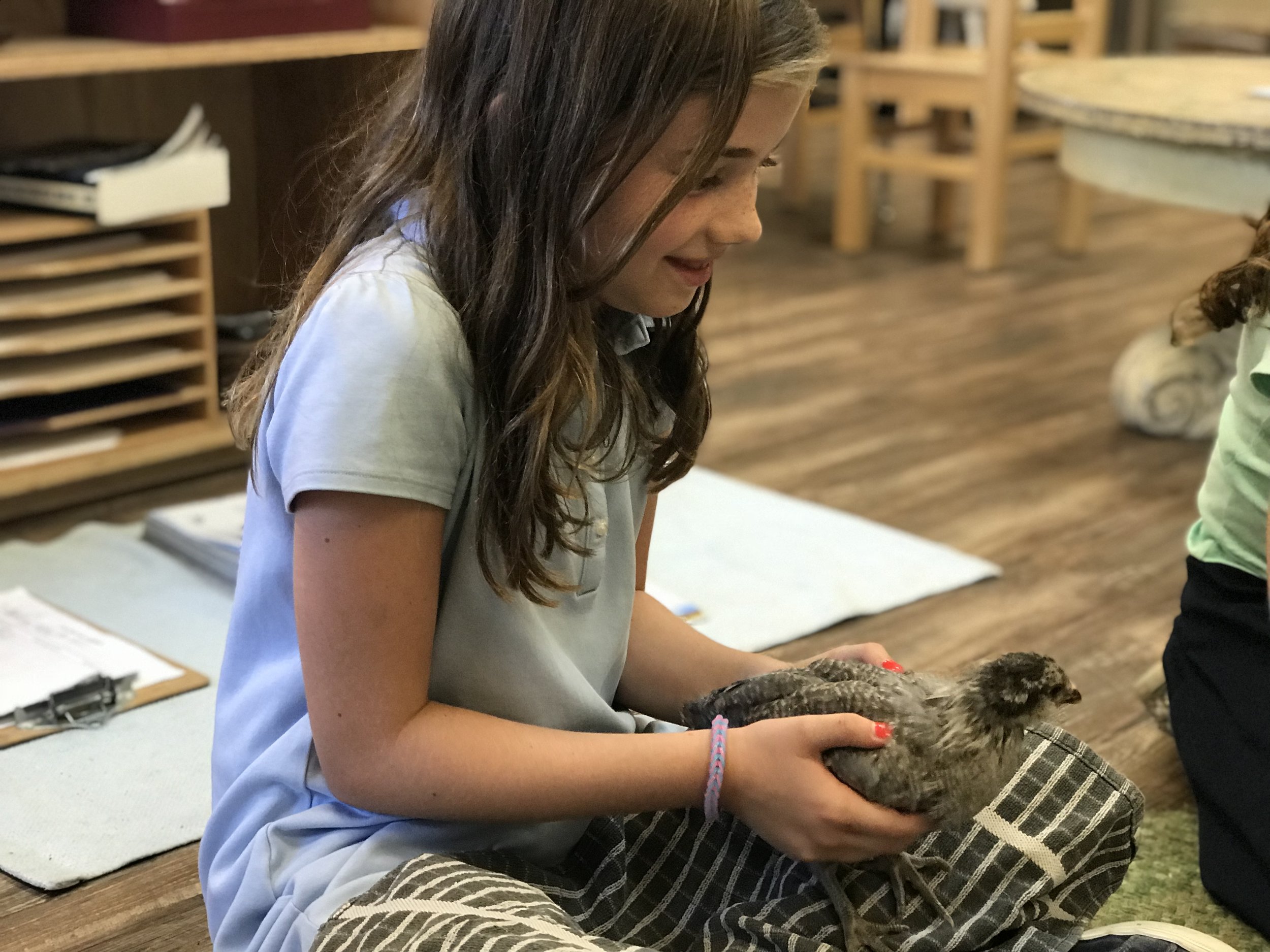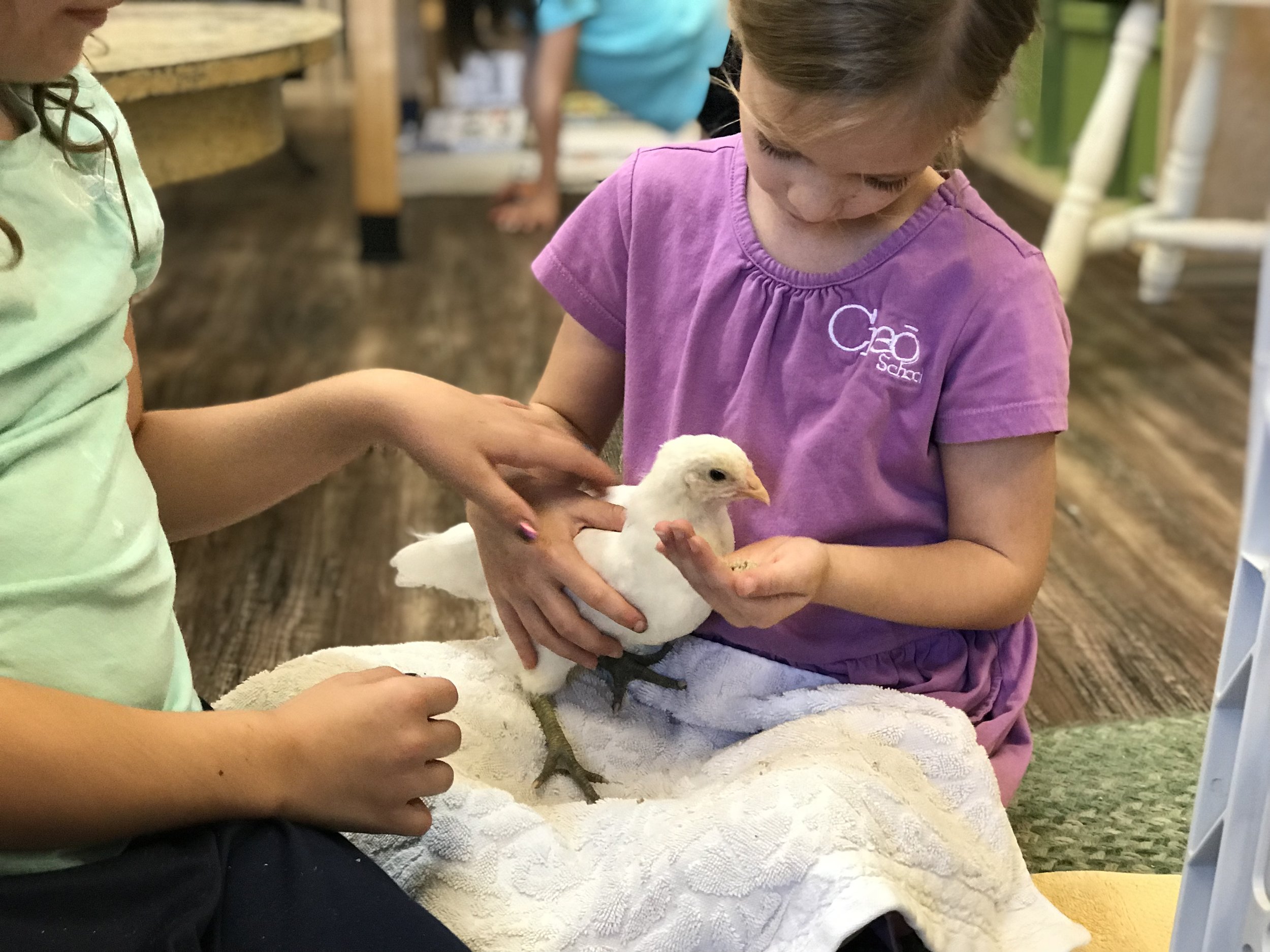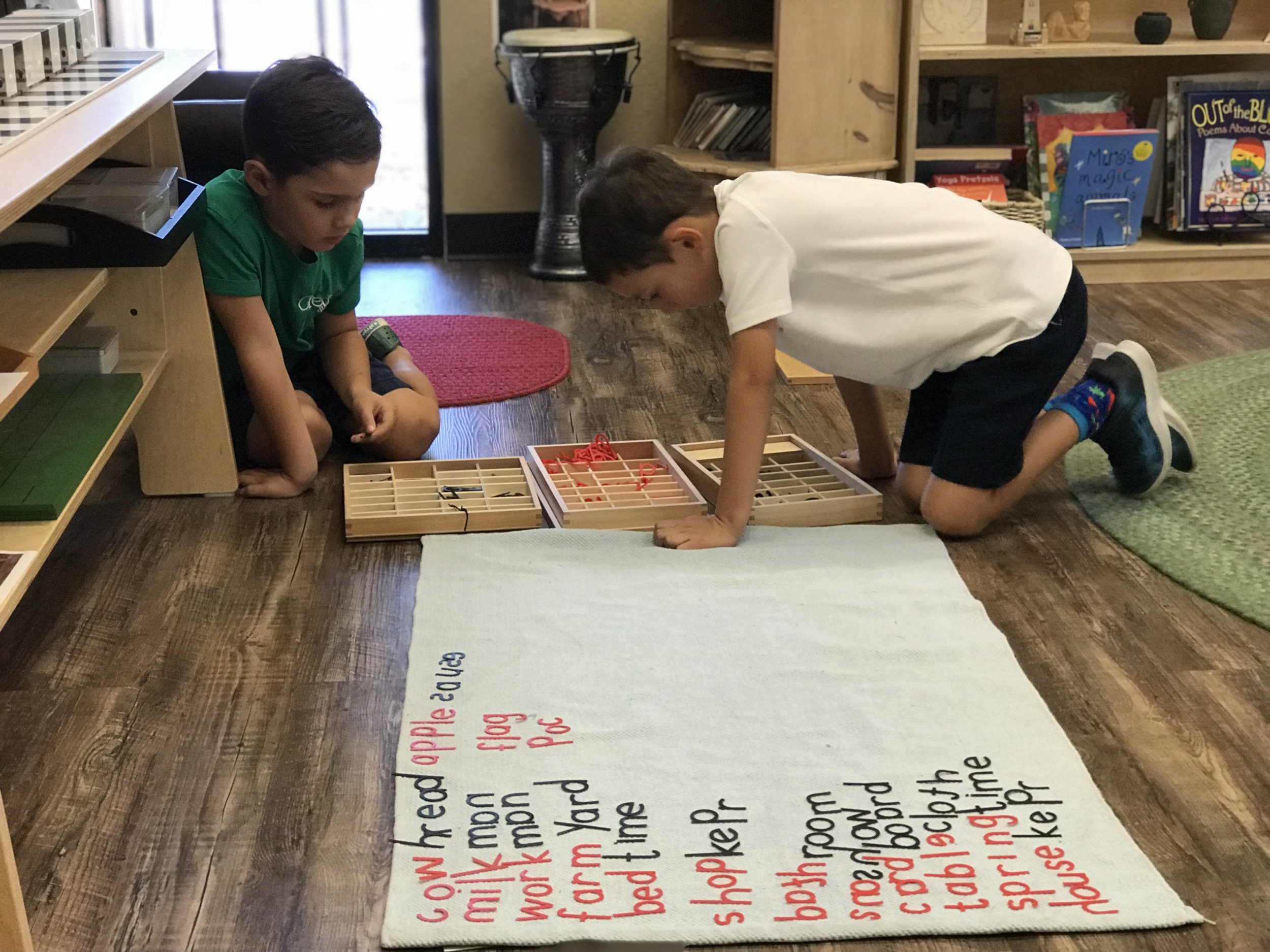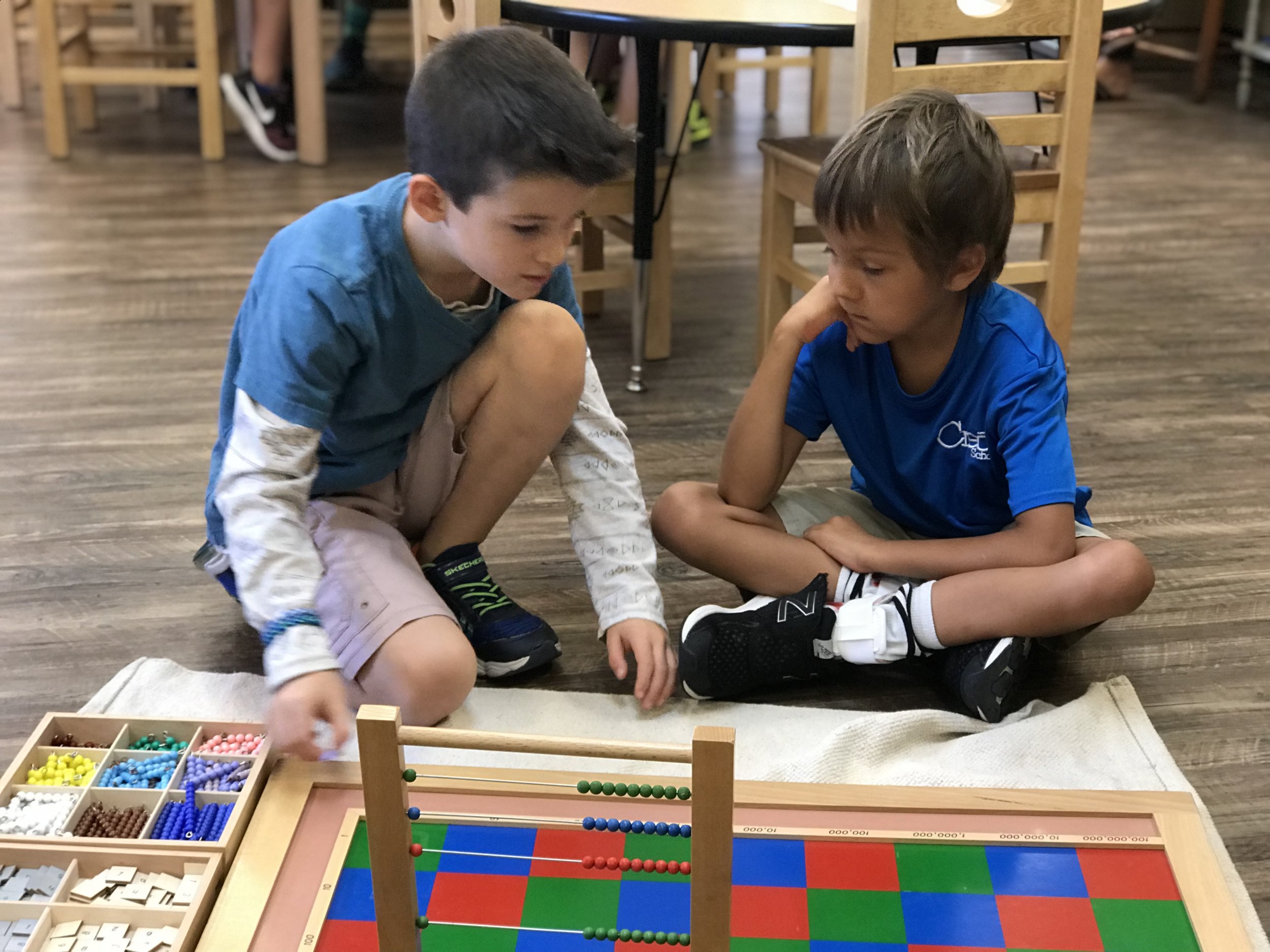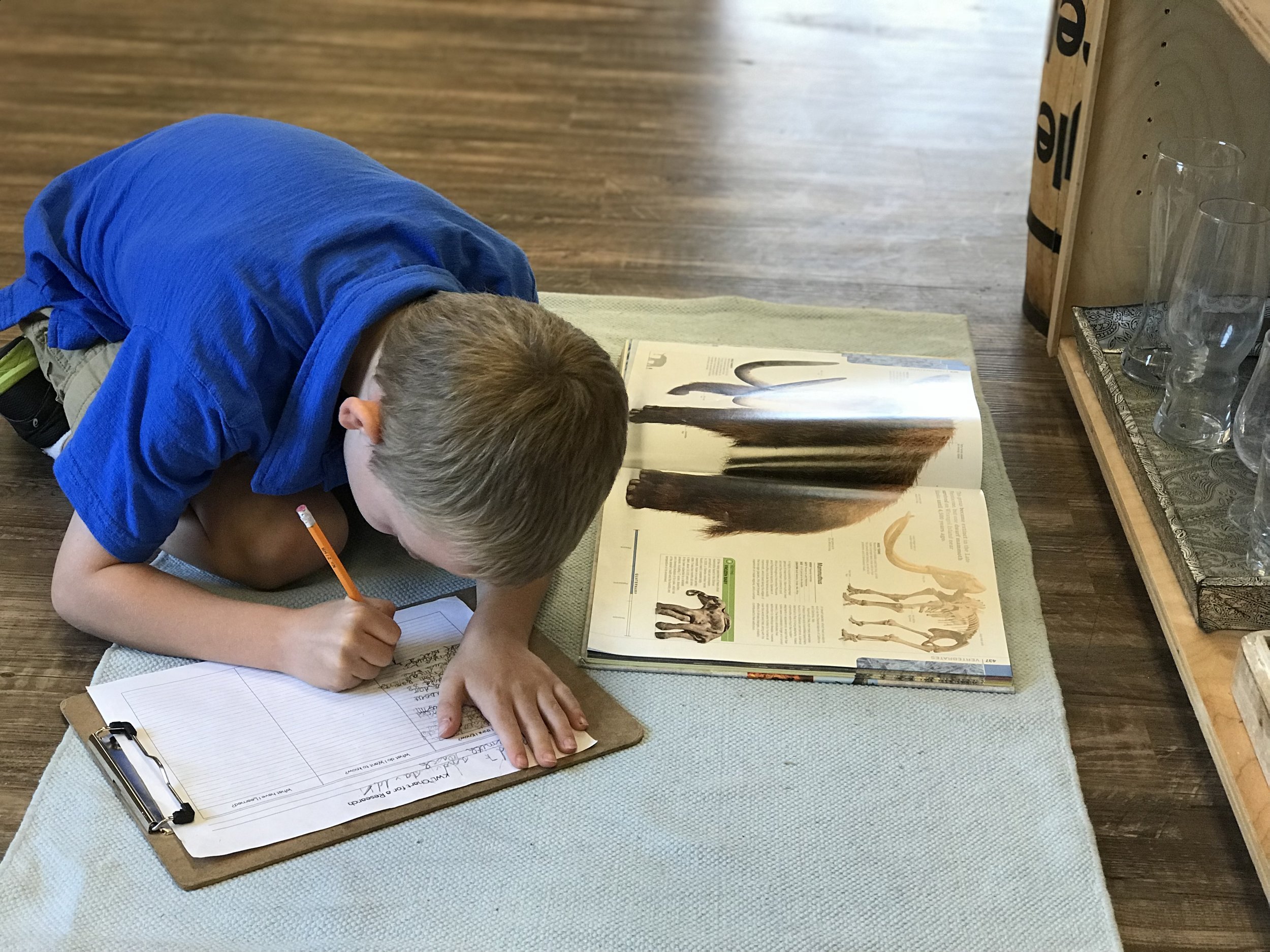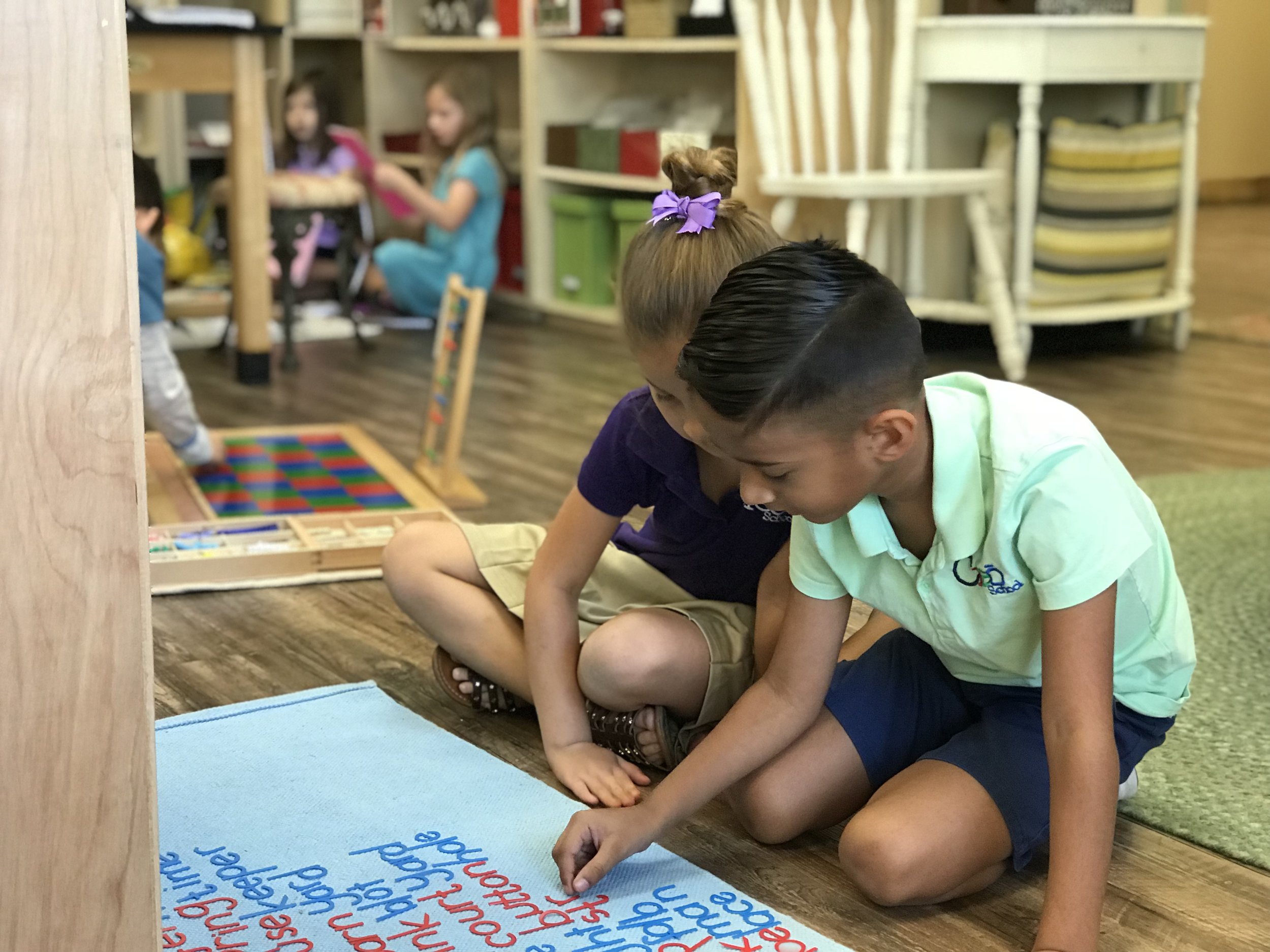 Falcons
Hello Dear Falcon Parents!
The last summer month passed in hard work. Students dove into new researches after the reiteration of the Great Lessons. The most fruitful story with researches as follow ups was the story of "The Coming of Life". There are so many different doors into the past of the planet's life were opened: dinosaurs, trilobites, sea lilies and sponges, megalodon. Children were also excited to understand that our alphabet is made of marks that stand for sounds and were thrilled with making their own marks/alphabets as well as learning about alphabets of other peoples.
Our classroom community continues to enjoy singing songs that we learned before and new songs likewise. This month we learned "Tour the States" (#1 hit of the month), "Light the Candle for Peace", and "Seven Nights to Read".
Peacefully,
Mr. Denis and Ms. Rebeca