Everything Points Back to Maria Montessori's True Cause Education for Peace.
Peace Education is at the root of our work in the Elementary Classroom. All lessons lead to the coming together of the human being in his environment today, yesterday and in the future. Without reservation after over fifty years of methodic scientific research all over the world, with children of all walks of life, Maria Montessori came to several universal unsuspected truths about child development:
Maria Montessori did not stop at rethinking learning and how children develop to prepare a person for a career; she encouraged education to take a serious look at the problems of human and social development and actively take a stand to reforming education to reestablish humanity:
Peace Education lessons are purposefully integrated with Cosmic Education curriculum to give rise to the love for humanity and unity of all living things on our Earth and Universe. The children create their own manifestation of love for our fellow man in the classroom. Each one at an individual level and as a community member explores this possibility. To explain it further, Peace Education is not necessarily a planned lesson that we as guides create arbitrarily to give to the children with an established agenda in mind. We open up the conversation with the children based on their questions or curiosities. A commentary we may have overheard at lunch time or during work period where the child shares they have witnessed in their own natural daily life. We as guides use these points of inquiry as inspiration to grow their questions into more guided questions until they themselves are in a space of a Peace Education opportunity.
For instance, during one of our recess sessions a student showed up sad. A guide asked her what was wrong and she shared that her family was affected by the Hurricane in Texas and she was worried for her cousins. She brought this concern to our quiet mindful exercise. The whole group was guided into thinking about how the people in Texas must feel in that very same moment and the Children spontaneously began to share their gratitude for what they had and considered blessings. It was something they had been practicing in class as an exercise before eating lunch and now it was a tool they used to express how they were feeling and how they had many reasons to be hopeful. After that we worked in an activity where we had groups of 8-10 students and they were asked to help each other survive on a small boat to reach an island before the storm hit. It was an exercise of not only self-preservation but the greater moral duty of ensuring every ones safety. Some manifested their hidden leadership skills and took on the challenge and guided all to survive the storm. They celebrated each other, thanked the leaders, and through mindful discussion they shared their views on how it can be a scary thing facing natural forces and they realized only by reaching out and holding on to each other can they survive… can humanity survive.
These exercises give endless opportunity for great conversations and we invite the adults in the life of children to pay attention and give to them time and conversation to explore anything and everything that they bring to you as their point of interest and curiosity about our world. Any time you can, bring to them ways of exploring their own thoughts, purpose, and connectivity to other things they have learned. Remember it is not about answering their questions but to bring to them ways for to answer their own inquiries, in other words, as we do in class, present to them the opportunity for further study (prepare the environment or take them to a place that will give them what they need: a walk in the park where homeless people house themselves, a hill to witness the sun setting, kicking a ball together in different ways and studying the science of the effect of the kick, a sewing machine and a story of sewing with your mom, as you can plainly see … endless possibilities.)
Always start from your observations of their activities, their consistent curiosity in a subject, item, or topic, a particular request, inquiry, and act accordingly to their prompt. Be an active member of their self-construction. To culminate the activity, try to provide a special way that will be memorable and purposeful, so the child may witness the unity and universality shared.
For instance, the 2017 Hurricane Season has been more active then normal. When Harvey made landfall in Texas it spontaneously opened an opportunity for the children an inquiry and relevant conversation about hurricanes and the people that it impacts. Many children were naturally upset because they have dear family members in Texas, Mexico, Florida and Puerto Rico. Topics in meteorology, oceanography, geography, history, human culture and fundamental needs considerations evolved around this current event and the children knew it was more than just something to "research" but something that impacts real people. The children were able to explore this and begin the process of asking even more profound questions, such as: Why are there hurricanes? How could people be without water or electricity? How does this impact me, my family, my relatives…? And they dove down even deeper in evaluating: Well I am ok, so now I feel I should help do something for those who are not ok. Then their questions to us their guides transformed to: What can we do to help?
The wave of interest to find a cause to help, research needs, then to plan an event emerged. Both classrooms collaborating and mixing ideas to the cause. As time moved forward in a period of 25 short days their need to do something continued, and escalated as not 1 nor 2 but 4 hurricanes that made landfall in the U.S. territory this season and not thousands but hundreds of thousands of people affected.
The Bake Sale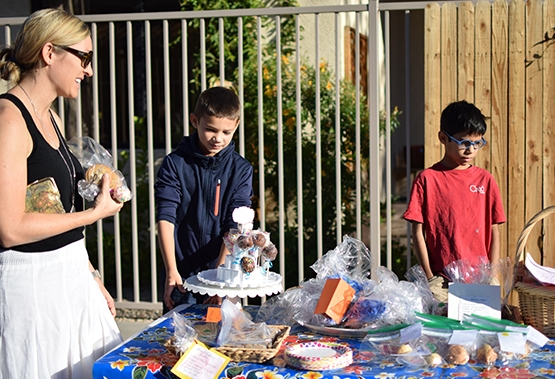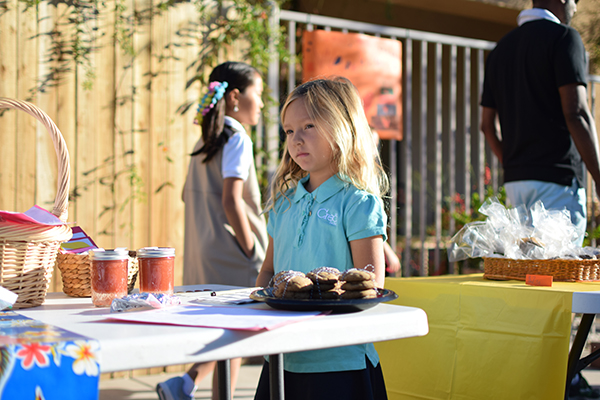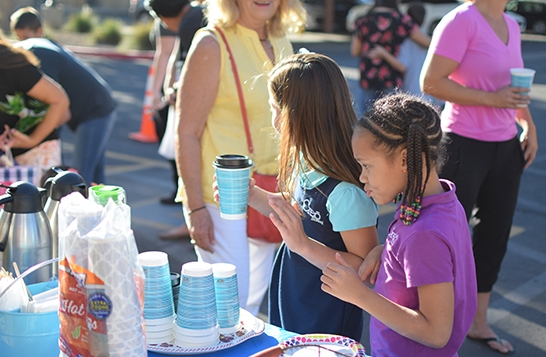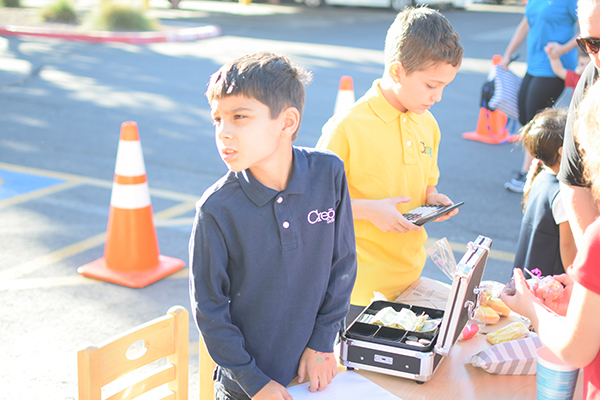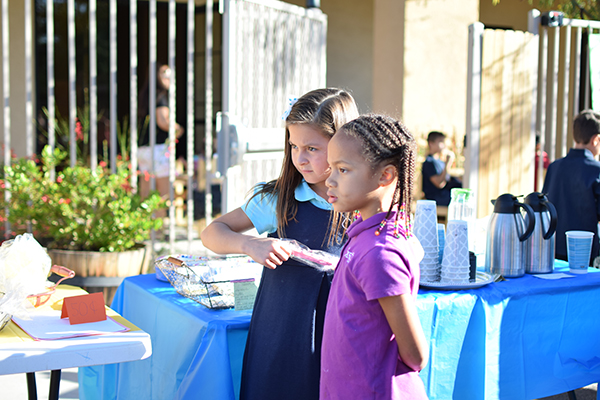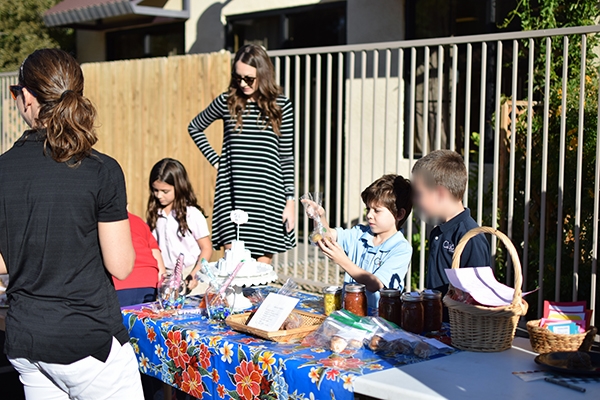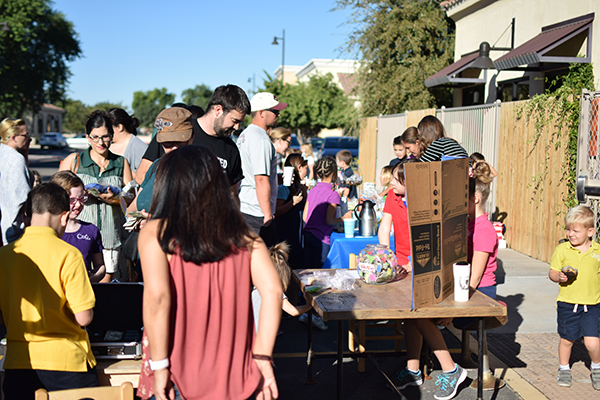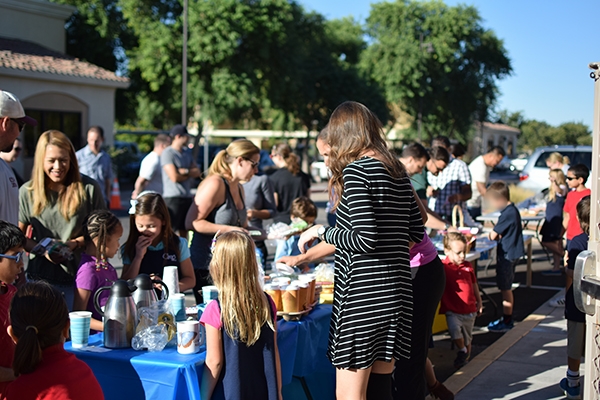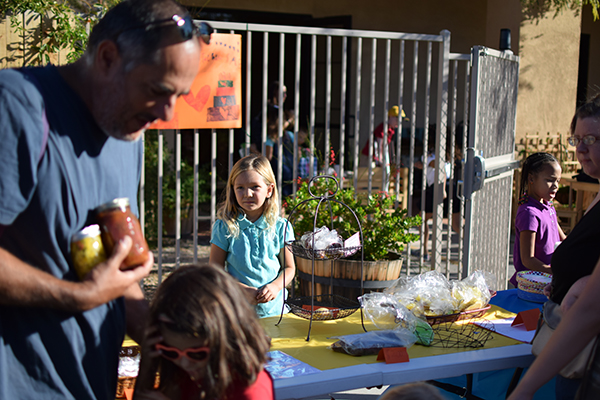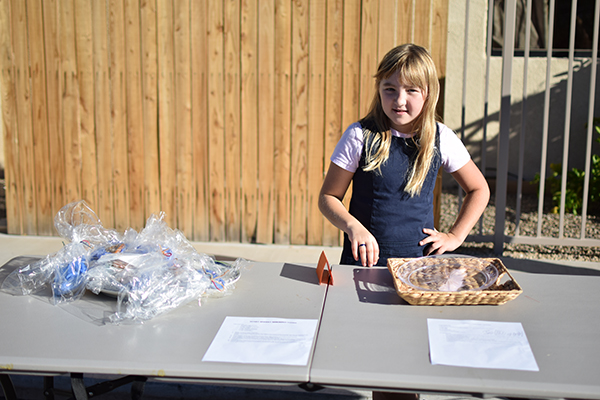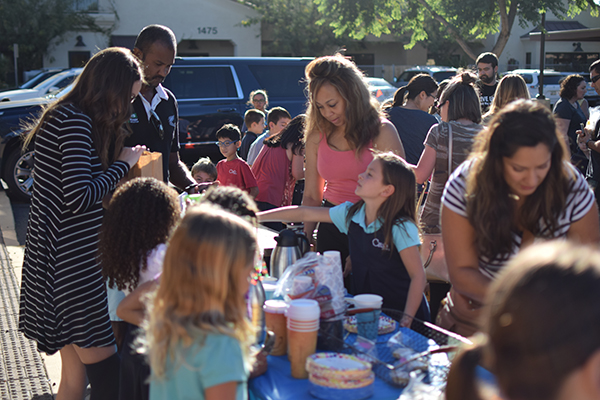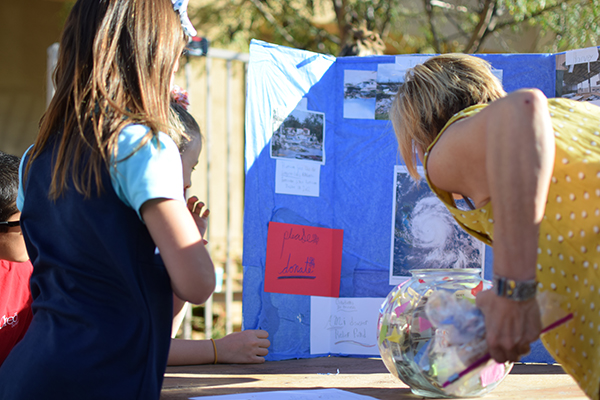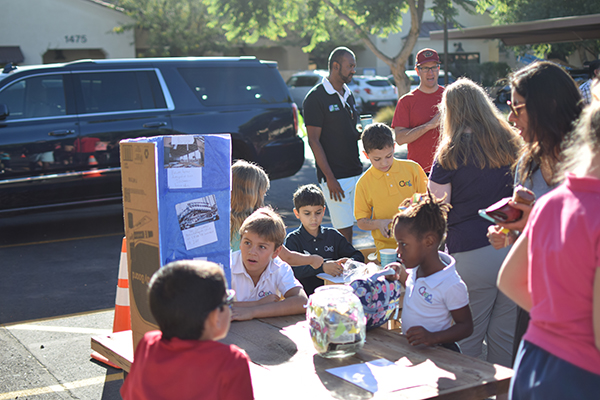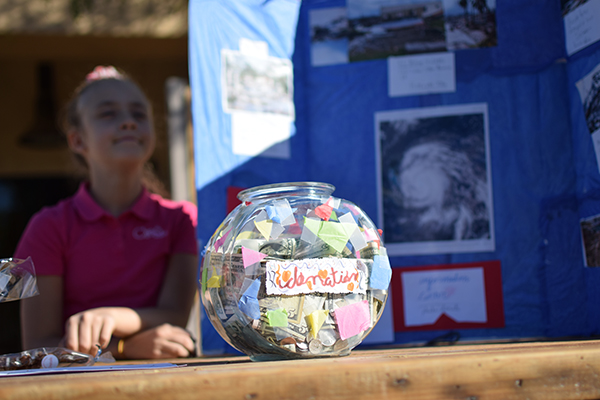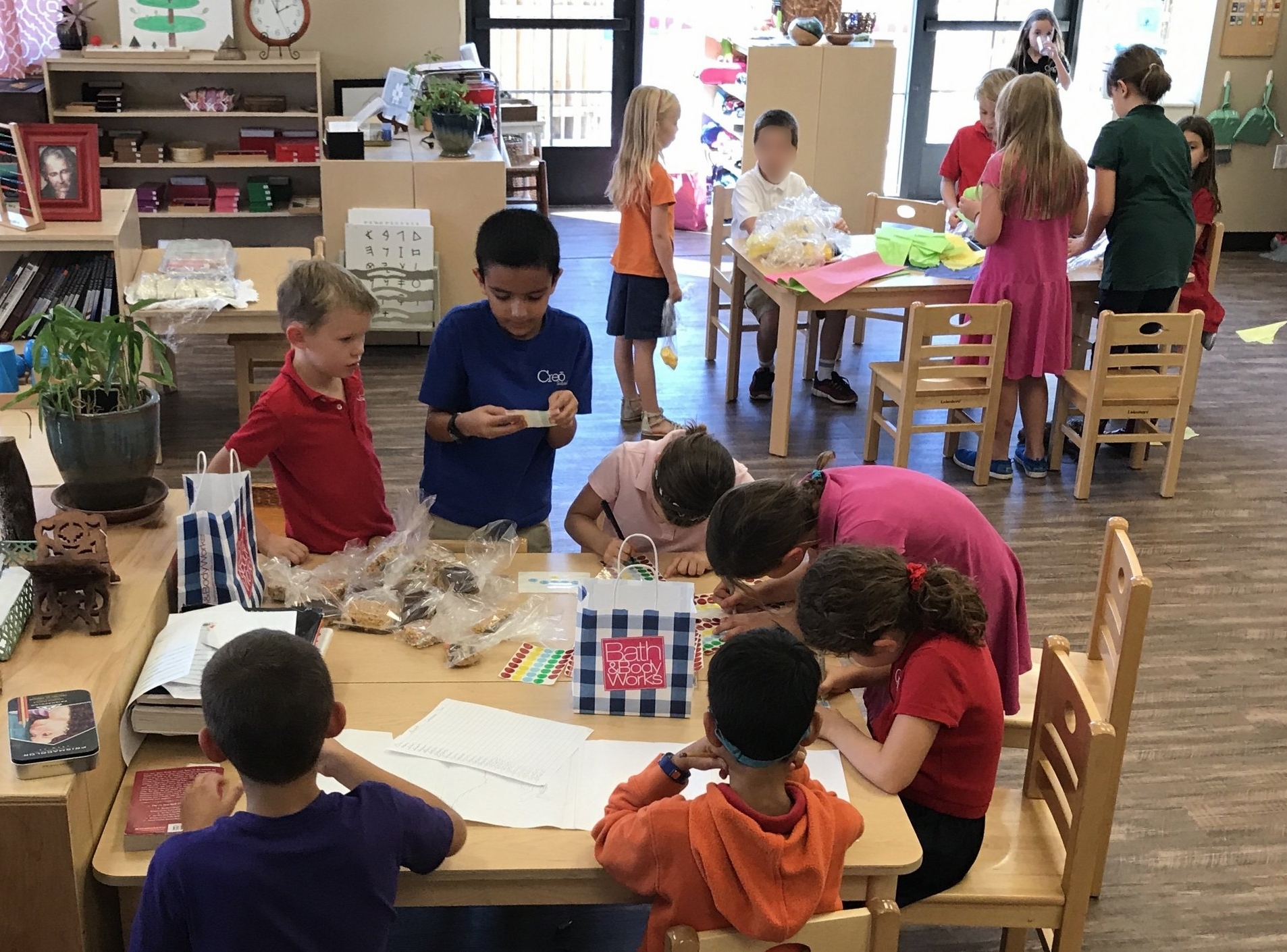 Peace education is not about creating things for our children to show up for; Peace Education is all about the adult showing up for what the children create so they may bring peace in the world.
For instance, the Bake Sale: October 6th at Creo Montessori at 8 o'clock in the morning with a beautiful sun shining, coffee brewing, and yummy treats surrounding us all! Smiles of joy and inner satisfaction.
The children came up with the idea of a Bake Sale to raise money to be able to make a contribution to the cause of the Disaster victims after several conversations and continual Hurricane activity and news about people suffering and doing without their basic needs. Slowly but surely THEY made it happen of course with our vigilance and support. They organized: divided the jobs, advocated for their cause, prepared recipes, made treats at school and at home, posters, research and decorations. They had a blast and also they had a focus… raising funds. The joy in their faces at the Bake Sale when they checked off an item as Sold Out was priceless…
What was most beautiful was how all of you showed up and made the morning a glorious memory that the children can call upon as a victory. Friends, doing for the children will never give them even remotely close the same satisfaction as the child acting and doing for themselves. You can say you have witnessed this truth that day. In standing out of the way, and allowing the child to do the adult helps them manifest independence responsibly and in their selected cause they begin the formation of the future peacemakers of our world! Parents and children together in the mindset of making a difference for someone unknown who we share this beautiful planet with is hope, love, and inspiration!
The children's first fundraiser of the year an amazing yummy Bake Sale! The children set a goal for 200.00 dollars, then said it would be nice to make 500.00, what could we do with 1,000, 5,000, a million dollars! The beginning of making the world a better place simple because WE CAN!!!!
Thank you for your participation, donation and love for these amazing human beings!!!
With greatest love,
Denis, Rebecca, Fernando and Ada
Peek into the Elementary Classrooms