Spoken and Written Language
The development of a child's spoken language qualities start long before they enter a Children's House classroom. From the moment they are brought into this world, they experience language from many different sources: their parent's voices, conversations between adults around the child, the singing of songs, the reading of books out loud, etc. The child is busy taking in many impressions of the world around him. When the child acquires spoken language, he is able to classify all of these impressions that were stored in his memory. In this way, the adult or Montessori Guide is the child's first exposure to a language material.
The Montessori environment offers experiences that create the chance for the child to organize his thoughts in a sequential manner. This encourages the child first to verbally communicate his thoughts, ideas, and feelings. Eventually, the child will put a sound to a symbol and will be able to express these thoughts in written form.
Spoken Language
There are many Spoken Language materials in the Children's House classrooms. The most common material is the children themselves. Their natural conversations amongst each other. They discuss their likes and dislikes, favorite foods, games, movies they have seen, and sharing their knowledge of the environment with their classmates.
As mentioned before, the adult in the classroom presents as a language material. The Guide uses appropriate language when speaking to the children or other adults. We read books based on reality, share poems, and present little facts about a cultural item on the shelf or wall. We take our time with the enunciation of words when speaking to the children. We play word games, sing songs and tell true stories. All of which can be done at home, while riding in your vehicle, or waiting in line at the grocery store.
Preparation for Writing
The hand must first be prepared for writing. The strengthening of the muscles in the fingers, wrists and even the shoulders are done indirectly through the work with the Practical Life and Sensorial materials. The circular movement from left to right of the arm and shoulder while washing a table, holding a pair of scissors in the cutting work, grasping the knobbed cylinders with the correct 3 finger grip all prepare the hand for writing. At home, attention to your child's grip while coloring and holding utensils can further the use of these muscles.
Role of the Adult
So how can we help the child build confidence pertaining to spoken and written language? We can allow the child to flourish on their own without preconceived expectations. Respect the child's interest in books and exploring sounds and symbols without the pressure of writing. Use proper vocabulary to the child and do not shy away from using advanced vocabulary. Take time to listen to their stories, thoughts, and feelings. When the child starts to write, embrace their phonetic version of the words. Building the phonetic sounds of a word is so much more important than the correct spelling. Spelling will come later. Read!!! Read a large array of material to your child. Poems, chapter books, history, and other educational based books. Allow the child to see you read a physical book. Let them see you embrace it in your hands, gently turn the pages, and even experience the smell of the pages all of which can not be experienced with a book on screen. Enjoy your reading time with your child.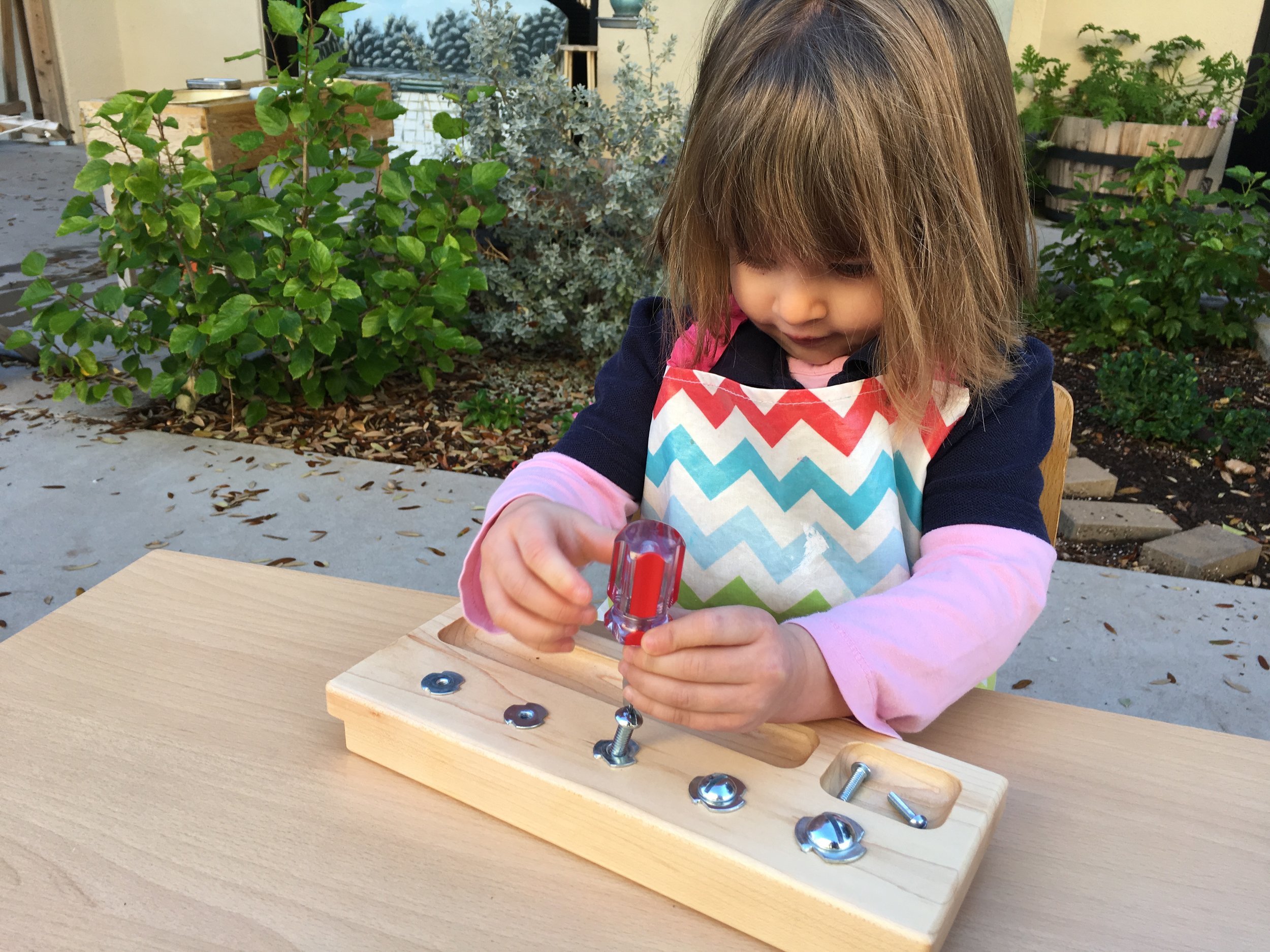 Peek Inside our Children's House Classrooms
Cactus Wren
Dear Parents,
Welcome back. The children were so delighted to see each other and discuss how they spent their time over the break. Ms. Eugenia and I were excited to see their lovely faces. A big thank you to Jamie and his family for taking good care of Owl and Flower (our classroom birds).
The children are hard at work receiving new lessons, revisiting our many Grace and Courtesy lessons, and welcoming our new students Jace and Ben. They enjoy showing the new students "the ropes" of the Cactus Wren Classroom.
We look forward to the second half of the year and all the growth in store for the children.
With Peace,
Ms. Johna and Miss Eugenia
Jackrabbit
Happy New Year! Feliz 2018! We are so excited to see the children back after winter break. They are so eager to continue receiving lessons and also see their friends. Thank you to Easton and Bobby, as well as their families, for taking care of our birds Charlie and Lucy.
How lucky are we to be able to live in this beautiful state where the children have the opportunity to enjoy the outdoors during winter time…that being said, we have enjoyed working in our outdoor environment, seeing the peppers and radishes in our garden grow, observe the birds who come to eat from the birdfeeder, sweeping the leaves, and watering the plants.
This month we welcomed new friends to our Jackrabbit class. Brylie, Rose, Rosalyn, and Patton, we are so happy to have you as a part of our classroom.
Peacefully,
Ms. Marcela and Ms. Dinora
Bobcat
Dear Bobcat families~
Happy New Year to you all! We have been getting back into the swing of things after our eventful winter break. Everyone is so excited to be back at school and to see all of their friends. We would like to extend a special thanks to Chandler and Madalyn for taking care of our class birds while we were away for break!
As we celebrated Dr. Martin Luther King Jr. day this month, we read a few books about his life and accomplishments. We followed up wth a discussion about his achievements and how they affected people in this country so many years ago. It was quite moving to hear the children's comments and questions.
The children have really taken to tasting the herbs that are planted in our outdoor environment, so to explore more tastes we have planted four more herbs. This month we planted sage, thyme, parsley and mint. It is such an amazing experience to be able to pick leaves from our own herb garden to taste! We are also seeing our next crop of eggplants well on their way and are still crossing our fingers that we will finally get a pumpkin!
With Peace,
Ms. Carmen and Ms. Liz
Gray Fox
Dear Gray Fox Families,
We hope you had a wonderful Winter Break! We have enjoyed listening to the endearing stories from the children of your special time together with family and friends. It is great to be back in the swing of things, as the pace our routines pick back up and new discoveries are being made. We welcomed two new children into the environment this month, Anna and Valentina. We are certainly delighted they're with us!
January is a special time as the new year brings fresh hope. Our gardens are growing and the children are eager to begin harvesting to make vegetable salads in the coming weeks. Thank you to all who attended our Community Meeting and our Montessori Journey and Discovery this month.
Warm Regards,
Ms. Lauren and Ms. Yadira