Reflections and Practical Applications
As this Semester comes to a close, we'd like to take the time to offer some ideas of how to tie all of the wonderful information we've shared about Montessori at Home, Practical Life, Observations and Sensorial together this season and into the new year. It is evident that the child's quest for independence is strong. We've highlighted the development of concentration as a foundation for academic success. Finally, we've expressed and you've practiced the importance of objective observations.
Using our previous blog posts as the bedrock, let's unveil a few thoughts for winter break. We hope you find these helpful and that they elicit ideas unique to your child's and family's interests.
Q: What are some ways over winter break to put this information to practice?
-When looking at the sensorial development of the child, we can't quite imagine a more perfect time to explore the senses than winter! The weather is cool, the scents of gingerbread and cookies waft through the air. Take the time to let your child explore with their hands. Slow down, focus on the qualities of the season. Play games to compare textures, scents, tastes, and sights. Provide your child with specific vocabulary for ingredients, patterns, shapes and colors.
-Embrace the importance of giving AND receiving gifts. This is something we discuss and practice in our classrooms through Grace and Courtesy lessons. We roll play how to express meaningful sentiments and how to say thank-you; give your child the opportunity to exercise this.
Q: How can we best support the 3-6-year-old at home through activity and quality time?
-Traditions are cherished throughout all cultures. Explaining the uniqueness of your family's heritage to your child is always a wonderful way to incorporate geography and history. You can create a family tree with your child, explaining the relationships between family members.
-In a culture of cellphones and media at our fingertips, we often overlook the importance of sharing photographs with our children. Winter break is a perfect opportunity to create a scrapbook or photo album with your child reflecting on the past year. Allowing them to concentrate on creating pages or cutting out shapes to personalize their pages is a total bonus and a priceless keepsake.
-Mindful Walking: There is much to be said about the power of taking a walk with your child. Although their pace is slower and motives differ from adults, as the child often walks with no end goal; they simply observe their environment and appreciate the intricacies of nature. It can also be beneficial to take a silent walk with your child. Some of the most famous intellects to date including Albert Einstein, Isaac Newton and Nelson Mandala have been noted to walk for at least 45 minutes a day. Consider following a path, a line, walking on an incline or log for balance. This is a type of meditation and important for processing.
Q: What are some ideas for gifts or experiences for the young child?
-Books! Surely you've heard your guide preach about our reality-based approach as well as outline the reasons why. Non-fiction books are treasures to the 3-6-year-old. They can find keys to the world, explore nature and make sense of the world around them as they classify and discriminate elements. Books are also diverse. We can find books about poetry, artists, composures, math, science, nature, emotions, feelings, and basically anything your child is interested in! It is impactful for the young child to have a library of quality books that he/she can hear or read many times. They are also timeless and make excellent hand-me-downs to neighbors, friends, siblings or donations.
-A trip to the ballet! Children love watching their favorite composures come to life through the performing arts. A seasonal favorite across our level is the Nutcracker!
-Binoculars or a magnifying glass and a book of southwestern birds/insects/animals. Help your child become familiar with the creatures at his fingertips or in his own backyard.
-Creating a reading nook, or a quiet area with a CD player for your child to listen to their favorite tunes can impact your child's quest for independence.
-A day trip to the zoo! Bring along a sketching pad and some pencils for your child to draw pictures or write the names of each animal she sees. Take the time to allow them to copy the names into their journal. Hidden bonus: this makes for an excellent show and share!
-A basket containing a few instruments. Children love to explore melodies and listen to music.
-Quality art materials. Simply show your child a technique and let their imagination take the lead. In the Children's House, we typically begin by introducing the child with the primary colors of any medium, adding one more as time goes on. For example, A tray with cardstock, a small dish with red, blue and yellow oil pastels.
-TIME. We've all said it before, it FLIES. It is gone within the blink of an eye. Out of all of the above, this is the most treasured "gift" you can give your child. Time with you and those they care most about is what they truly need the most. Be creative, have fun, turn off all electronics, bake a cake, build a fort, play catch, have as many conversations as you can, laugh and enjoy these precious moments.
Links and additional ideas:
Use the following to as a navigation point to "search similar items":
(this content is not endorsed)
Peek Inside
Gray Fox
Dear Gray Fox Families,
As we take time to reflect on the individual and group accomplishments of the Gray Fox students, it's bittersweet to say 'au revoir' to 2017. The memories we made this year are hardwired into the growing minds of each child and adult involved alike. Although the memories made are priceless, the hope of tomorrow brings so much promise. With the excitement of the New Year in the foreseeable future, we begin planning. We enjoy setting new goals and work hard to formulate plans to reach them. After discussing traditions that this season brings in various cultures around the globe throughout the month of December, the children were mindful of reoccurring goals they each present: harmony and peace to all.
To preserve this theme, the children have had some passionate ideas about how to 'give back' in hopes to help others feel loved as well as caring for the Earth. Plans included in our discussions were: limiting water use, picking up trash at the park, cooking meals for families in need, writing letters to children around the world, helping grandparents with chores, making a card for a friend, and so forth.
So, Gray Fox families, Ms. Yadira and I challenge you to brainstorm with your children and create goals to help others in your family, community or around the globe. Whether simple or complex, we believe in the power of thoughtfulness. Also, it's never too early to demonstrate the importance of goal-setting to the young child! Feel free to share photos or send us a note via email over break to let us know what you're up to. Otherwise, we look forward to hearing about your unique acts of kindness in January.
We wish you all the joy of the season. Here's to a very happy New Year!
Ms. Lauren and Ms. Yadira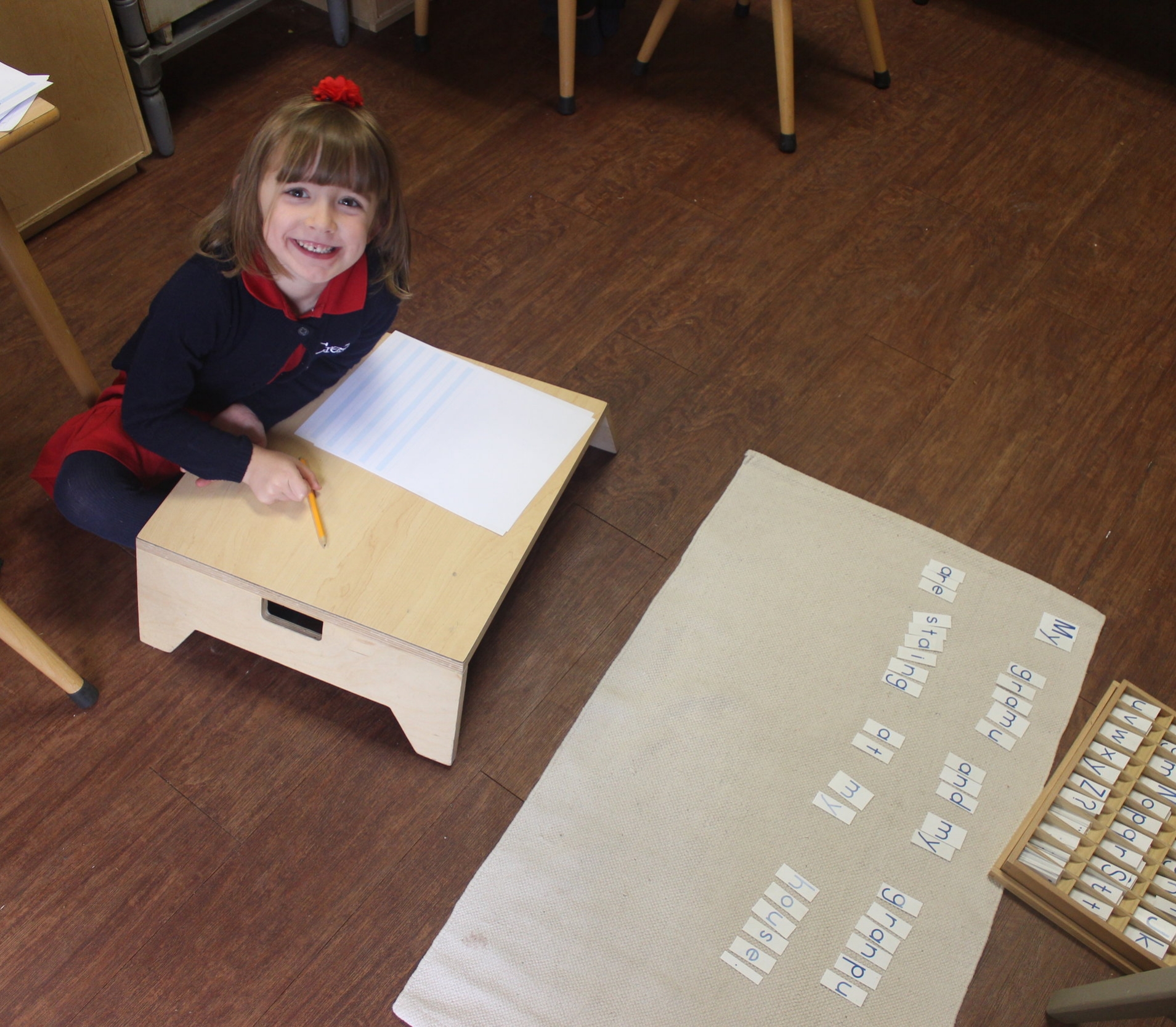 Cactus Wren
Dear Cactus Wren Families,
We have been busy tending to our wonderful garden. The green, yellow, and red bell peppers are coming in great. Our tomatoes are not far behind. The broccoli and cauliflower plants are growing huge leaves.
Inside the classroom, we finished up our study of apples. They children enjoyed bringing in apples to share with their friends, tasting all different varieties of apples, and exploring the many shapes, textures, names, and colors of the apples.
As the year draws to an end, Miss Eugenia and I would like to thank all our families for your support and lovely children. It is a pleasure to spend time with them. We see something new everyday through their eyes. They remind us daily of how compassionate, loving, forgiving, generous, and understanding little people they can be. We relish in the "ah-ha" moments when they discover their independence. We rejoice in their laughter and giggles. Our hearts break when they are sad. We are amazed at their thirst for knowledge. We are truly blessed.
Have a peaceful and relaxing break and we will see you in the new year.
Peacefully,
Ms. Johna and Miss Eugenia
Jackrabbit
Happy December! The children have been busy as they continue to get new lessons and practice their old ones. We continue to work on a daily basis with our "grace and courtesy lessons" as well. We have finally harvested some green peppers from our garden and used them as a part of snack!
As the weather gets colder, please remember to write your child's name in their winter attire. This is a good time to practice some practical life skills at home by encouraging your child to dress himself, including jackets and shoes. This helps not only to accomplish a task, but also to become more independent from adult help. Your child will feel accomplished and successful. Children are more capable than we can imagine. At this age (2-6 years old) they should be able to dress themselves with little help, eat a meal using utensils, drink from a regular glass, and even help at home by folding laundry, setting up the table, sweeping, dusting, watering plants, cleaning windows, unloading the dishwasher, etc. Consider implementing more age appropriate chores on their daily schedules to help with independence.
We would like to thank Nicholas and his family for taking care of our bids Charlie and Lucy during Thanksgiving weekend.
Another year comes to an end! As the holiday season is soon approaching, we would like to take this opportunity to thank you for being part of Creo's community. We wish you and your loved ones a wonderful holiday and a very happy new year. See you in 2018!
Bobcat
Dear Bobcat Families~
Well, we sure have been busy this month! We are baking a new recipe of sweet raisin scones, preparing our winter craft and watching our beautiful paper white bulb bloom that decorates our snack table. Such an exciting month!
We would like to say a special thank you to Emily for taking care of our bird Sunny while we were away for fall break. It just so happens that when Sunny returned to our class, she had a new bird friend named Sunniya living with her in her cage! What a great surprise for us!
Every day is a new and exciting moment for each of us in the environment. These past few months we have witnessed immense growth with children learning to tie their own shoes, children learning to read with confidence and children expressing their overall love and respect for one another and our beautiful classroom environment. We can't wait to see what the next few months have in store.
Have an amazing and festive holiday filled with lots of love and laughter! Happy 2018!
Ms. Carmen and Ms. Liz
Winter Wonderland
Our Winter Wonderland was a great success! Please enjoy the photos below of this special time we spent together, celebrating the season!