Today children spend more time indoors due to a variety of factors such as: indoor extracurricular activities, increased news and technology applications as well as the fear of being alone outdoors due to the insecurity of the environment. The interaction between nature and children is necessary and has many advantages. The human being is undoubtedly connected to nature especially children who are fascinated by observing living beings. Consequently, education must integrate the study of nature both at home and abroad. In particular, in the Montessori method, this connection is an important and inspiring part of the teaching system and also a way to achieve the appropriate physical and psychological development.
In Montessori classrooms, the guide is the person responsible for teaching students different ways of integrating nature. The guide can incorporate nature walks of daily explorations and activities in each season related to nature. Another alternative is to make available to children the full access to materials on botany and zoology of Montessori and to promote reading related to nature. Some studies suggest that the increase of children's interactions with nature could influence the wellness of our planet and promote the development of young naturalists.
At Creo, we are very lucky to have an outdoor environment in each classroom. The outdoor environment is a dynamic, flexible and versatile place where children can garden, move, create, work, observe birds, clean, explore, and much more. The children have free access to transit from outside to inside throughout the day. When children can work in natural spaces, the connection with nature is quicker and spontaneous. It motivates them to take the risks that enrich their learning.
The time spent outdoors increases physical activity and the development of health and total well-being in children."When individuals develop normally, love for all living creatures is clearly manifested." The contact with nature allows opportunities to achieve rich sensory experiences, a vital element in the Montessori Method.
As previously mentioned, there are many works that support the exploration of nature. These activities can be taken outside to further study and explore nature, zoology and biology. In our language area, we have three-part cards that feature classifications of a variety of subjects such as birds, butterflies, reptiles, horses, and fish. The children can also enjoy working with the "parts of" cards on leaves, trees, roots, and flowers. They can create their own books with natural materials pertaining to different types of leaves by collecting the leaves; writing about the leaves, drawing the leaves; and pasting the leaves in the books.
The outdoor environment is also equipped with magnifying glasses and binoculars so that the children can examine nature up close. These findings can also be written about, drawn, or just enjoyed in the moment. These educational opportunities are everywhere. At the park, on a hike, and in our backyards. Take time to enjoy them with your children.

Peek Inside our Children's House Classrooms
Jackrabbit
What a wonderful spring season we are having in the Jackrabbit classroom! While some of the children were watering the garden, they spotted little carrots peeking through. What a surprise we had when they pulled them out! they were so big and so delicious. With this beautiful spring weather the children have many opportunities to work outside and even go in little nature walks in the campus. We stop by to see other classrooms' gardens and listen to beautiful birds flying around.
This month we welcome a new friend, her name is Andrea and she is five years old. The children have been enjoying the sweet snack this month, graham crackers with strawberries and bananas complemented by banana bread freshly baked every morning. The children have working shard and practicing their current lessons as well as receiving new ones. It is such a pleasure to observe how they have taken full ownership of their environment and how much they love and help each other. This wouldn't be possible without all of you, parents. Thank you for supporting us by encouraging your child to become an independent learner and promote their eagerness for learning. I would also like to take the opportunity to thank you for supporting the staff by attending our many parent night this year, it is so much fun to have you over in our classrooms to share with you what how the children learn in a Montessori environment.
Our Spring social and parent teacher conferences are approaching us, can't wait to get together.
Warmly,
Ms. Marcela and Ms. Claudia
Cactus Wren
Dear Cactus Wren Families,
It has been such a productive month!!! The child's curiosity and love of learning is in full bloom. I often look around the classroom and the children are creating books and art, having insightful conversations, helping each other learn, sharing information they have learned or telling funny stories. It is such a pleasure for us to be part of this explosion of knowledge and happiness.
The weather has been so nice that the children have been taking inside work outside. They are busy observing the insects and birds, smelling the flowers, and tasting the herbs, carrots and lettuce. With the beautiful weather, the children have really taken ownership in keeping the patio clean and swept and watering the plants and flowers.
Inside, we have been busy learning new songs, revisiting the old songs, and dancing. Yes, dancing! Children have a natural rhythm when they hear music and want to express it through movement.
I so look forward to the rest of this amazing month and the joy and happiness of the children.
With peace,
Ms. Johna and Ms. Marali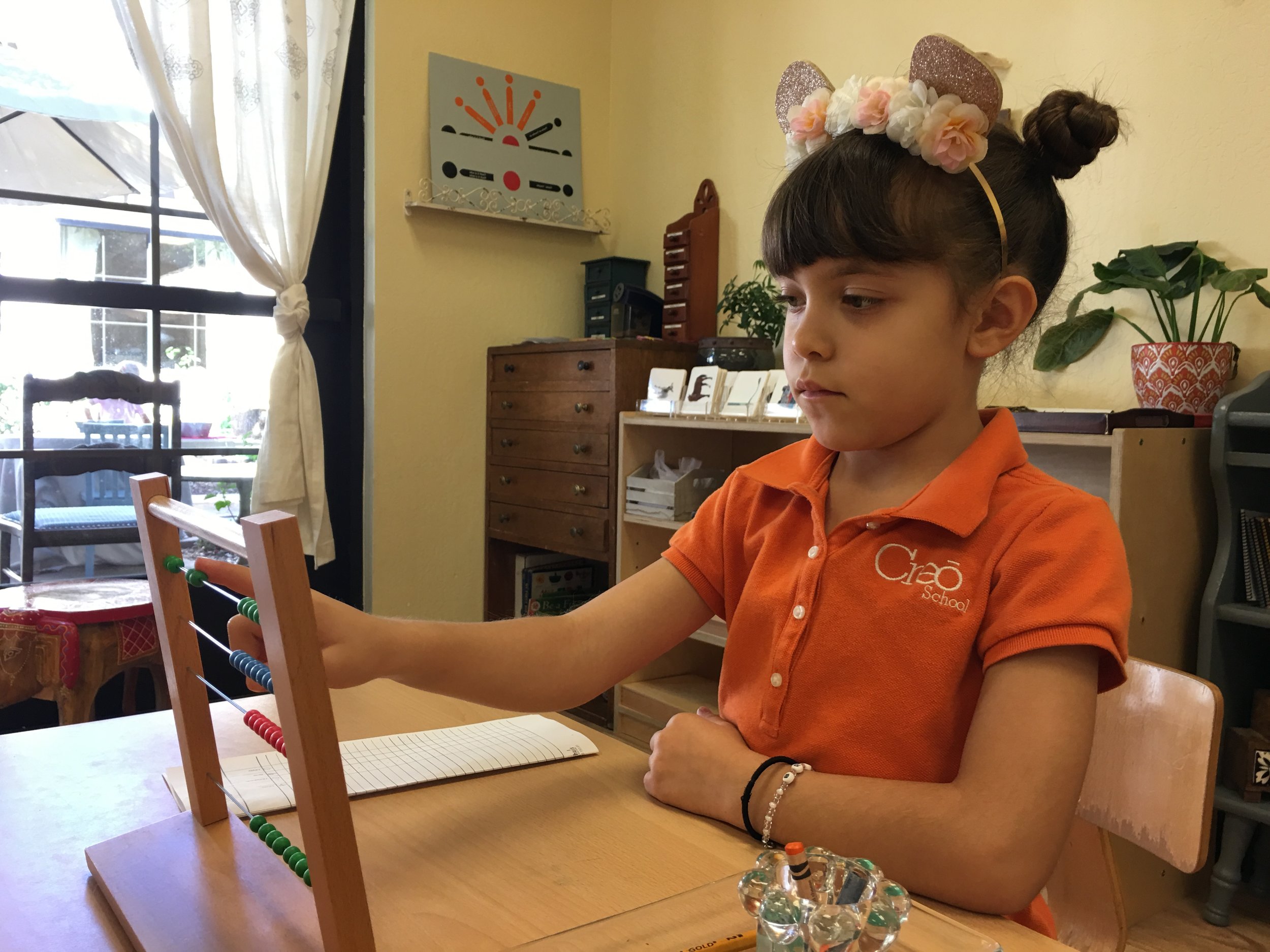 Bobcat
Dear Bobcat Families,
The Bobcat room has been full of wonderful concentration, hard work, and sociability as we near the end of the school year. The children understand the set expectations and are using the freedom of choice in the room to work on large works and test their knowledge and skills. We welcomed Mr. Jenson into our classroom this month and the children enjoyed receiving many lessons from him as he works on becoming a Montessori Teacher.
The children have loved the graham cracker sandwiches they have been making for snack each day. The children preparing snack will thinly slice bananas and strawberries, place three drops of honey on a graham cracker, stack the fruit on top, then add the top graham cracker. This is an easy snack to have available for your child to prepare at home over the summer break. The children have also been baking banana bread each day for snack and to serve to guests and observers that we welcome into the room.
Thank you to all who came to our last parent education night of the year. I am so glad you got to see the breakdown of the math lessons that your child will work on through out their three years in the Children's House. We have our Spring Bobcat social May 16th so be on the lookout for emails from our room mom, Sarah, for further details.
Thank you for your trust,
Ms. Haley and Ms. Leydi

Gray Fox
Dear Gray Fox Families,
It's been a month full of delightful experiences outside. The children were thrilled to observe the lifecycle of the butterfly, noting each stage of development with enthusiasm. The real treat was when were released our painted ladies and watched them float away in the sunbeams. We also had special visits from Kiera's kittens and a Jackrabbit Student's African Desert Tortoise!
We were happy to have Ms. Paige with us from the Southwest Institute of Montessori Studies, completing her student teaching and our visits for the year. The amount of concentration, wonderful extensions, and growth each child has displayed is fantastic. Keep an eye out for more information about our Spring Social on May 15th at 5:30 PM.
The children have been happily singing this garden song lately, enjoy: https://youtu.be/IZYY80Y3jNc
Kindly,
Ms. Lauren and Ms. Yadira